I have mixed feelings about bootable tools, because of additional complexity to manage physical media for those. Still some tasks benefit greatly from clean independent boot (like cleaning viruses with DrWeb LiveCD).
Parted Magic is another Linux-based bootable disc for hard drive partitions manipulation and related tasks.
Initial setup
As usual for bootable solutions Parted Magic primarily comes in form of ISO image. It must be burned to CD or DVD disc (~80MB, so size is not an issue) for which I recommend my usual picks – CDBurnerXP or InfraRecorder.
Another option is making bootable flash drive, setup is harder and aimed at Linux users. There is an option to make it from LiveCD itself as well, had not tested that one.
What it does
Since it isn't single app, after boot you are presented with typical desktop that offers access to bundled software.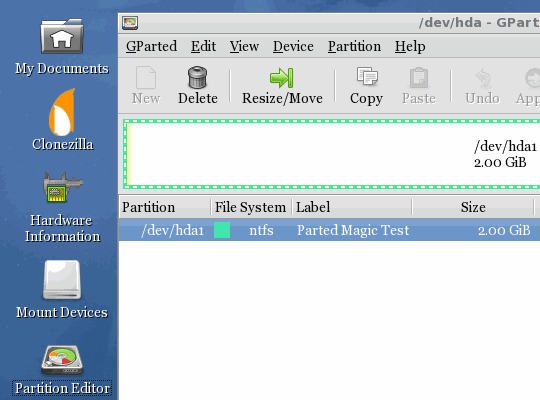 Main function of managing partitions is handled by GParted. It can perform all core operations and interface follows classic schema set by Partition Magic. This week I had used it to redistribute (without loosing data, consolidated it with MyDefrag first) space on new notebook that came with single partition and it worked like a charm.
As usual I must warn that partition-related operations can be highly destructive and you should never use it without previous backup. Knowing what are you doing is also highly recommended.
Functions covered
Because of Linux nature many of apps are closer to that platform, but most of core software will work with Windows partitions just fine. Areas covered by bundled software roughly are:
partition manipulation;
partition imaging;
data recovery;
networking.
Strong features
supports many partition formats for different platforms;
strong network support;
support for removable drives;
some hardware diagnostics features and recovery software span it into area of emergency toolkits.
Overall
Strong set of open source software in self-contained bootable environment. One of cases when software of Linux origin is huge help in area historically short of good and powerful freeware on Windows.
Download http://sourceforge.net/projects/partedmagic/files/
Related Posts