In my post on choosing portable antivirus I've mentioned problems that background monitor antivirus solutions have if system is already infected. Portable scanners are good tool but even they won't be able to deal with serious infections.
DrWeb LiveCD is all-in-one (and free) bootable antivirus solution.
What it does
Software comes in form of ISO image that you must burn to CD (as always I suggest CDBurnerXP to do that). Image is under 70Mb in size so will fit even on small 8cm CD discs.
After you boot from disc…
refer to your motherboard manual for choosing optical disc drive as boot option;
or try pressing F8 right after turning computer on usually shows boot menu on most desktop motherboards).
…select DrWeb LiveCD option when prompted and it will boot (disc is Linux based) and show you list of options available.
How to use
Strangely supplied manual shows quite different graphical user interface from what LiveCD actually has. Either it was simplified or not yet finished - I have no idea.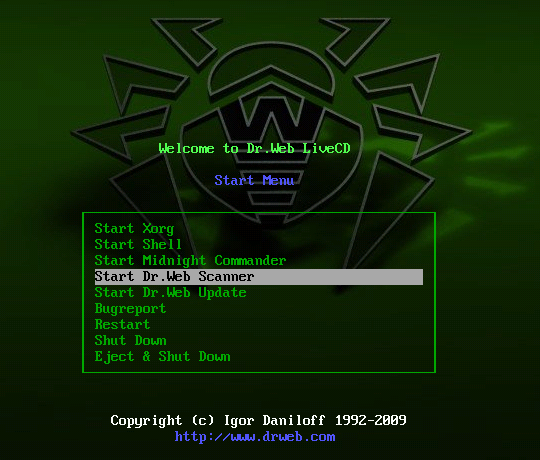 There are only two menu entries actually needed:
Start Dr.Web Scanner will launch antivirus scan on all drives available;
Start Dr.Web Update will try to update antivirus (if Internet connection is available and LiveCD could detect it properly).
Downsides
DrWeb LiveCD updates are similar to DrWeb CureIt – you have to re-download entire image to get fresh databases included. Live update obviously can't write bases to disc and won't work with plenty of Internet connections.
I'd also like to have more control over what to scan and skip – something that is described in manual, but not present in actual software.
Creating bootable flash drive
Manual list instructions to make bootable flash drive from ISO image. It requires booting from LiveCD in command line mode and playing with Linux commands a bit. I hadn't tested it myself.
Overall
Free, solid antivirus solution to handle most serious infections. No need for custom Windows LiveCD as with most portable scanner. Not something needed daily but extremely helpful in deep cleaning routine.
Home page freedrweb.com/livedisk
PS In case you are wondering how I made screenshot from LiveCD – I had used VirtualBox for that.
Related Posts