Most people say "burning discs" and think Nero. Plenty of people say Nero and think "expensive bloated crap".
For few last years freeware applications for recording data to CD/DVD discs are clearly on the rise. They may not reach Nero fame any time soon but some are perfectly fitting for daily use.
When I got tired of dealing with Nero I had quite a quest for finding suitable burning app. It had to be both usable for me and easy enough to give someone else (and not get month of haunting phone calls).
Dozen apps (and half that wasted discs) later I was pretty sure CDBurnerXP fits.
I have no experience with previous versions of CDBurnerXP but current 4.x is described by developer as rewritten to get rid of unnecessary bloat. Huge success in my opinion because it has that exact balance of functions when you have all you need and nothing unneeded slows you down.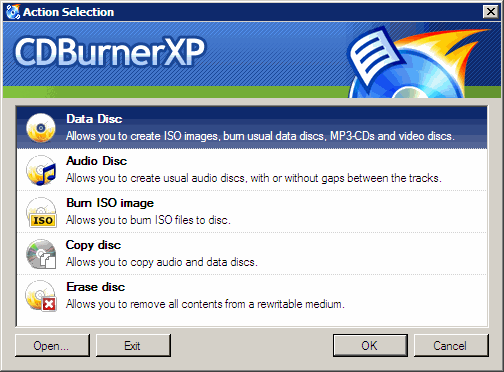 Program greets you with action selection screen which pretty much tells everything it can do. It handles data, audio, ISO images and direct disc-to-disc copies.

Interface for composing compilation to burn is a lot like Explorer window plus big, nice and clearly labeled buttons. It behaves a lot like Explorer window as well, so you can easily drag'n'drop, copy/paste (or whatever else) to insert files.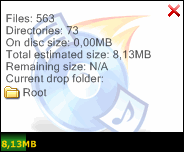 Dropbox (not that Dropbox :) ) is nice feature that hides main interface and gives you small window where you can drag files from your file manager of choice.
Not that important but nice extras:
option to set default disc name with some macro available (like user name or current date)
saving to ISO (there is also native DXP format that only save information about contents without files themselves)
converting BIN and NRG images to ISO
printing disc covers (not much customization but fast and easy)
CDBurnerXP is freeware and requires Microsoft .NET Framework. It is supposedly portable - like developer says that it should be portable but few people really tried to use it as such. :) Latest version has download clearly marked as portable but I hadn't tested it extensively yet.
Downsides are very same that I complained about in my post on Notepad++ - too little testing. That results in bugs. I was waiting with this post because few builds before current had nasty bug that made me repeatedly roll back to 4.0 from 4.1.
Home page cdburnerxp.se
Download page cdburnerxp.se/en/download
Portable download page cdburnerxp.se/downloads/portable
Microsoft .NET Framework download page www.microsoft.com/net/DownloadCurrent.aspx
Related Posts