Few remarks about Ubuntu on Twitter and suddenly I am getting Linux-related suggestions in my Skribit widget. Considering this blog is purely about Windows – before I post something like "Ubuntu tips and tricks " some basics need to be explained.
What Ubuntu is
Linux is free and open source operating system. It does same things as Windows just different way. Unlike Windows that is developed by single company (Microsoft ) Linux is free for grabs meaning anyone can take it and customize to achieve specific goals. Such customized versions are called distributions.
Ubuntu is Linux distribution with goals of providing ease of installation and operation for average user . Since Linux has a history of being anything but that – Ubuntu managed to gain some fame and hint of chance for mainstream adoption for those goals.
Why bother
That is actually epic question going on for years. Some valid reasons, some made up. Talking in context of average user my take is:
free;
not Windows;
malware-proof.
Ubuntu handles Internet and multimedia well so it's possible alternative to Windows for home PC. Luckily there are few good options to try Ubuntu without changing anything in existing Windows installation.
LiveCD
Ubuntu comes in the form of ISO file of ~700Mb size. This is CD disc image.
Download .
Burn to CD (I suggest CDBurnerXP for that).
Boot your PC from that CD.
You get option of running Ubuntu directly from CD without using local hard drive.
It is going to be slow (optical discs are very slow comparing to hard drives) but it's easy way to get impression what Ubuntu looks and feels like.
Wubi

Wubi is Windows program that installs Ubuntu simply in the folder of your hard drive.
Download and run Wubi.
Wubi will download Ubuntu ISO and use it to perform installation (no need to burn disc).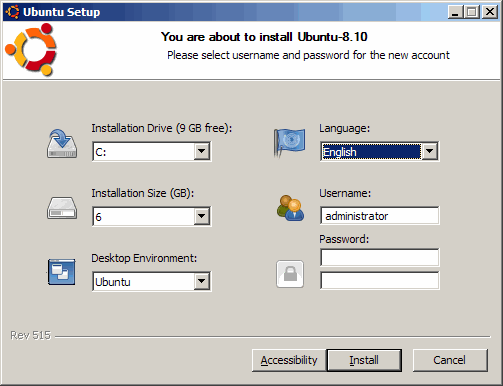 After that you will have option of booting into Ubuntu instead of Windows. Performance is going to be bit slower than regular Ubuntu installation (that requires making changes to hard drive partitions unless you have spare drive for that) but much faster than LiveCD and easiest way to install.
VirtualBox
I had previously posted about VirtualBox that is excellent freeware solution to work with virtual machines. You can plug Ubuntu ISO directly in VirtualBox and
try LiveCD mode without even having to reboot;
make full Ubuntu installation on virtual machine.
This way is resource-hungry but checking out other OS by running it inside Windows is very handy.
Overall
Ubuntu did great work on providing options to check it out without much trouble and commitment. So if you are considering moving to Linux in the future or simply curious about Ubuntu buzz – it's really good and easy distribution to try.
Links
Ubuntu http://www.ubuntu.com/
Wubi http://wubi-installer.org/
VirtualBox http://www.virtualbox.org/
Related Posts