I had covered excellent file defragmentation app JkDefrag last year (time flies) and bit after that things went quiet with its development.
This year it had re-emerged as MyDefrag utility that offers quite a few interesting functions while keeping core principles of JkDefrag intact.
What it does
Aside from slight color scheme change MyDefrag is still same utility at first glance.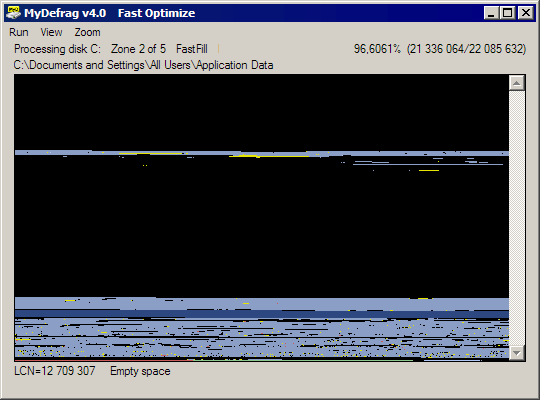 On simply launching executable performs defragmentation of drives using default routine.
New script system
Purely command line approach to setting in JkDefrag was quite flexible. MyDefrag takes it much further with implementing whole scripting language to describe desired defragmentation process.
Scripts are plain text files. Few generic are included in distribution, as well as extensive documentation to make your own. They allow to:
target specific volumes;
target or exclude specific groups of files;
perform very precise sorting and optimization;
control log file output;
many more things I am yet to discover.
Features gone
And again while preserving core function some things went poof. Most obvious is license change – MyDefrag is no longer open source and now is simply freeware.
While MyDefrag remains completely portable it only comes as setup package. I also see no option to add it in screensavers without going through install.
JkDefrag was popular enough for many third party utilities to emerge and provide graphical interface for fine-tuning settings. While not impossible for MyDefrag, script system is much more extensive and appearance of GUI tweakers for it is under question at moment.
Overall
For simple and efficient defragmentation this is no-brainer upgrade. For power users with own JkDefrag configs new version may come quite demanding with considerable learning curve of new script approach.
Download http://www.mydefrag.com/Manual-DownloadAndInstall.html
Related Posts