Lately my disc burning is next to nothing (yay for large hard drives and fast connections). I started to think about swapping CDBurnerXP (and its questionable portable status) for something definitely portable that I can keep neatly tucked away most of the time.
InfraRecorder development was quiet for a while, but it had been recently revived with new release and portable version from PortableApps.
What it does
App has usual interface with home screen that lists tasks and horizontally split Explorer-like windows for projects. It seems to settle as de-facto standard for burning software and it fits just fine here.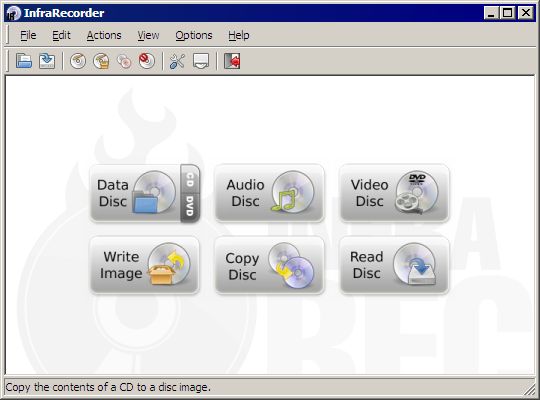 I hadn't burned (ever) audio discs and such, but data and ISO burning so far were smooth and reliable.
Strong features
all core tasks covered;
some advanced options (if you ever need them);
no fluff – clean and snappy.
Usability
While I like clean look default toolbar icons are definitely too small for comfortable use. Option to change them is also unobvious in View > Toolbars > Customize > Icon options.
Large task buttons look nice, but they are hardcoded and stay English when another interface language is chosen.
I like such type of interface myself (with tuned toolbar), but it is not as good as CDBurnerXP to recommend to novice user.
Overall
Fast, efficient, open source with completely portable version. Interface probably caters to techies more, but that's for you to decide.
Home http://infrarecorder.org/
Download http://sourceforge.net/projects/infrarecorder/files/
Portable http://portableapps.com/apps/utilities/infrarecorder_portable
Related Posts