I mostly revolve in Windows platform and rarely have need or spare computer to play with Linux. This means I mostly install it on VirtualBox and on regular computer that is quite constrained environment. Xubuntu is supposed to fill a role of less heavy Ubuntu, but as I feel from using it a bit and googling around that is more of wishful thinking. :)
Lubuntu is another Ubuntu derivative that aims to provide sufficient performance on old or low-powered hardware.
What it does
Lubuntu combines usual Ubuntu perks with lightweight LXDE desktop environment. It was initially available for installation on regular Ubuntu distributives, but at 10.04 also got first standalone stable beta release.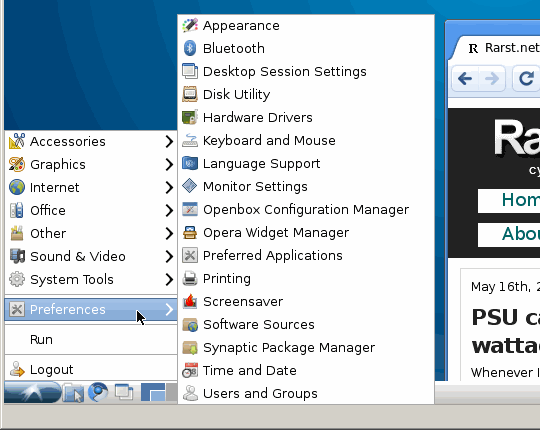 It follows same principle in selection of default apps – there is only a handful with Chromium for browser.
Visually it is minimalistic, the kind of interface that doesn't get in your way.
Strong features
As for me strongest feature here is that Lubuntu doesn't strive or pretend to be omnipotent OS. It is straightforward and non-confusing distributive that you can install in ~20 mins (what it took me on VM with slow 2.5" hard drive for disk container). And you get simple environment with decent browser and few light apps.
Memory usage without any software running was reported to be 105MB.
Downsides
There are some quirks here and there, but it is hard to say do they come from Lubuntu or more accurately from Lubuntu in virtual environment. VirtualBox guest additions complained about kernel-something on install and parts clearly didn't work as they should – no seamless cursor, monitor resolution reseting itself…
I've left it running in background for some time and noticed that one of randomly chosen screensavers completely trashes CPU. Weird behavior for energy-efficient claim.
Another questionable decision is lack of automatic updates. As far as I understood Lubuntu won't check for them despite that there is such setting where it should be. Wiki explains procedure for manual updates… But come one – who wants to remember updates on what is supposed to be old repurposed Internet box?
Overall
Distributive with interesting and useful goal, but not without quirks in current state. I am most interested if it will become officially-endorsed derivative, which it aims to.
Home http://lubuntu.net/
Download http://lubuntu.net/blog/lubuntu-1004-now-available-download
Wiki https://wiki.ubuntu.com/Lubuntu
Related Posts