I have been quite happy with CrossLoop (and TightVNC which it uses or separately) for remote access. Still these are not universal, with CrossLoop's human presence on both sides requirement and TightVNC's lack of encryption.
Rush had mentioned UltraVNC more than once in comments, though not completely positive remarks. :) So I decided to poke that – another open source VNC-based solution for remote screen access.
What it does
Just as rest of VNC bunch this one is client-server application to set up remote access and control for computer. It is of stand-alone flavor, not tied to any third party service (does promotes Teamviewer with banners and such).
You have complete control, but you are on your own with connectivity puzzle as well.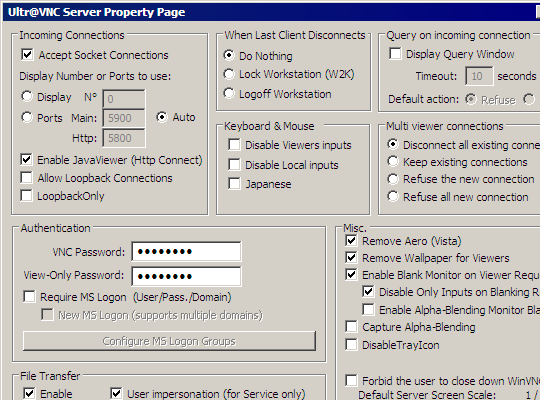 Strong features
Simply put UltraVNC packs most complete set of features I had seen in such kind of app. They are nothing marvelous separately, but most utilities make their picks. UltraVNC on other hand makes no compromises:
flexible connection quality options;
chat;
file transfer;
block of remote controls and screen;
repeater and NAT hole punching addons;
command line parameters and silent install instructions;
password or domain authorization;
creation of setting-less Single Click packages;
more (and even more) stuff.
Encryption
While UltraVNC doesn't come with encryption out of the box, it has support for data stream modification (DSM) plugins.
To use such plugin you need to place it into UltraVNC folders, both of server and viewer, and configure them to use it. There is option to generate pre-shared keys, but it will work with password alone as well.
Downsides
So far only issue I encountered is browser access (via Java applet embedded in server) not working. Possibly because of encryption, I saw no mention on how well it plays with DSM plugins.
And more sensitive part is usual VNC issue of 8 characters limit on password length. Weirdly server doesn't make mention of that – any password you type in will be silently cut to first eight characters.
Since it's your headache to protect servers from being brutforced it does seem short. It is probably best to go with pre-shared encryption key from the start.
Overall
Highly comprehensive and functional solution for those who like to tinker with settings. It doesn't have ease of use, common to hosted services, but being free and powerful makes up for that.
Home http://www.uvnc.com/
Download http://www.uvnc.com/download/index.html
DSM plugins http://msrc4plugin.home.comcast.net/~msrc4plugin/index.html
Related Posts