App got on my radar while back and refused to get off it, ignoring my lukewarm reaction. :) Rick had posted about SAS earlier this year and since my comment there I got to exchange emails with Mike Duncan, who manages app's marketing (among other things).
Later in the year he notified me that app now has portable version and my main gripe with this malware scanner and cleaner is thus cleared.
What it does
SAS is quite generic in its purpose – it searches system for malicious code and cleans it up. It is not an antivirus (read it – not intended for fighting complex persistent infections), but has more broad range of malware it looks for (up to tracking cookies).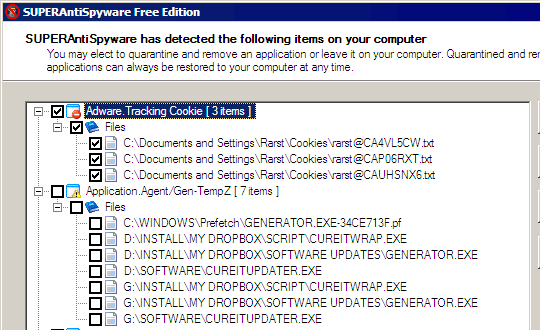 For some reason portable version got branded as Online. Really there is nothing online or cloud about it (I've seen some reviews confused by that word). It is simple self-extracting archive that unpacks to temporary folder and launches app from there. It can also be manually unpacked (with 7-Zip for example) and used from any folder.
Strong features
App has totally saved the day once by picking fresh and obscure virus that rest of my malware toolkit managed to miss. This alone is enough for serious attention. :)
Scanner doesn't have too many working buttons (a lot of them pop up offer to upgrade to paid version) but there is enough left for nice control of scan process and self-update (uncommon among freebies in this niche).
Downsides
Ugly amount of false positives. It is common for AutoIt and some Delphi apps to be mis-detected as malware. Well, SAS does that annoyingly consistently. HFS and my custom Appnews software gets flagged every single time.
It is a sign that app relies less on large database of precise samples (like all major antivirus solutions) and more on detecting generic patches of possibly malicious code.
Also app is far from completely portable – it leaves behind program itself in temporary folder and numerous files in user's profile. Not critical for main function, but for portable it makes more sense to cleanup than produce leftovers.
Overall
Very solid scanner that works without installation and is free for personal use. It may lack polish and precision of major products but roughly as good at actually finding and removing malware.
Home http://www.superantispyware.com/
Download http://www.superantispyware.com/download.html
Portable http://www.superantispyware.com/onlinescan.html
PS gHacks is giving away some SUPERAntiSpyware Professional licenses today
Related Posts