I had picked CrossLoop while back for my family PC setup and had several opportunities to test it since (naturally :).
It is most convenient remote support tool I had used so far.
What it does
CrossLoop is actually bundle of two applications. CrossLoop itself acts as wrapper for open source TightVNC. Former handles settings and connection process, latter remote access itself.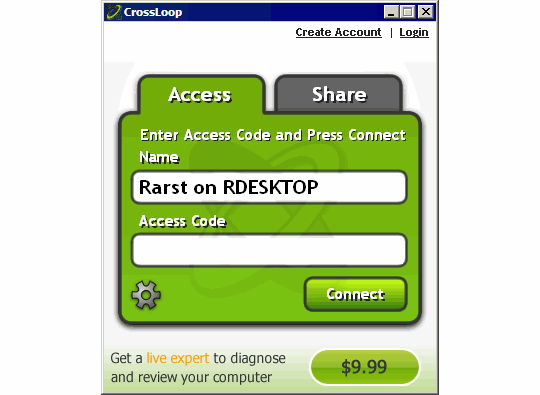 Interface is very friendly, especially comparing to native mess of TightVNC. To establish connection party (who wants to be accessed) must provide special access code and choose to connect. Then other party uses that code to start session.
CrossLoop acts both as client and server, so it is same software for both sides.
Strong features
excellent usability;
excellent connectivity, I was able to connect through some wicked setups (still access quality suffers in such case);
file transfer support (just drop files on CrossLoop interface when session is active) removed from free version;
account is optional, works without registration;
all traffic is encrypted.
Downsides
Not really a flaw, but by design CrossLoop requires human presence on both sides. That makes it more secure and ensures that party being accessed is only in session when it is deliberately requested.
Still I'd like to have something as easy to use, but with option of remote access to unattended computers.
I also encountered weird issue I wasn't able to fix yet – on my home PC alphabet part of keyboard doesn't work on remote computer. It is exactly same with stand-alone TightVNC so not CrossLoop's fault, but still annoying.
Marketplace
Aside from regular use CrossLoop also maintains portal that lets people to hire helpers for their computer issues. I have no feedback on this, but just might dive in some day – concept seems appealing and software itself is polished enough to not get in the way.
Interface also displays text add for such services.
Silent install
CrossLoop is not natively portable so dealing with multiply installs is troublesome. Luckily setup package is made with Inno Setup that has generic silent install function (case-sensitive):
CrossloopSetup.exe /VERYSILENT /SP-

It will still ask to agree with TOS on first run, but skipping setup saves plenty of seconds and clicks.
Overall
Convenient and with zero learning curve app is perfect for home use when both sides are attended.
Home&download http://crossloop.com/
Marketplace http://crossloop.com/landing.htm
Related Posts