I had covered number of remote access utilities, from which CrossLoop and UltraVNC see most of use for me lately. Most of such software tends to specialize. It is hard to come by solution both flexible and easy to use.
TeamViewer remote access, presentation, conference and VPN utility claims to fit all of possible uses.
What it does
TeamViewer uses classic model of client/server plus company servers to mediate connections. Authentication is handled by combination of auto-generated session id and password. Encryption is end to end AES 256 bit.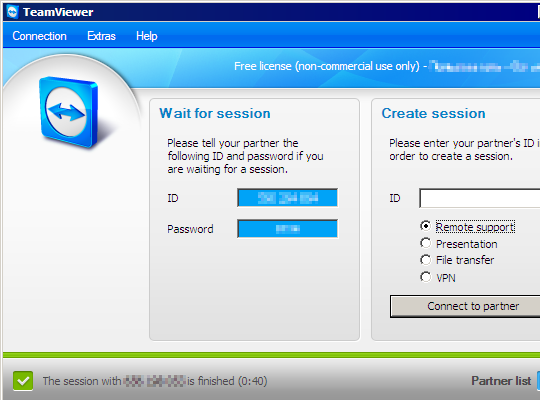 Components
Unlike analogues TeamViewer has suite of software instead of single utility:
regular version;
portable version;
QuickSupport – portable and server-only;
few more titles for advanced usage.
I had tested portable and QuickSupport apps – just as I like my software. :)
Strong features
TeamViewer indeed offers most comprehensive suite of features:
remote control;
remote presentation;
file transfer;
VPN (not available with portables);
text and VoIP chat with webcam support.
From what I tried it has no issues in functionality or performance either. Everything just works.
Downsides
Licensing for TeamViewer lineup is crazy confusing. Portable and QS apps I tested work just fine and say that they are free for non-commercial uses… Yet readme and site claim that you need commercial license for them.
PortableApps offers identical portable version plus their wrapper without any clarification or mention of license.
Not a major issue but still if you need software with clear license terms and use for commercial purposes – this one is no fit at all.
Overall
Most functional remote access suite I had seen, but limited to non-commercial use. Which won't even require most of functionality. Makes it more of fully functional demo for those who will have to pay to use it.
Home http://www.teamviewer.com/
Download http://www.teamviewer.com/download/index.aspx
Related Posts