Took me a while to get to it (says something about how appealing idea is) but today I tried Express Gate function on my newish Asus motherboard.
Express Gate (aka Splashtop) is light Linux distribution integrated with hardware to provide fast boot into light shell with basic networking functions.
What it does
Express Gate is Linux based OS with limited functionality:
web browser (Firefox based);
some games (online, probably Flash based);
image viewer;
instant messaging (Pidgin);
VOIP (Skype).
Unlike usual OS distributions it requires some degree of hardware support so mostly comes bundled with such.
As I remember early versions were running from flash chip integrated on motherboard, but that was later changed (probably to cut costs) to hard drive installation. By the way installation is Windows-only but at least manual mentions option of installing on flash drive.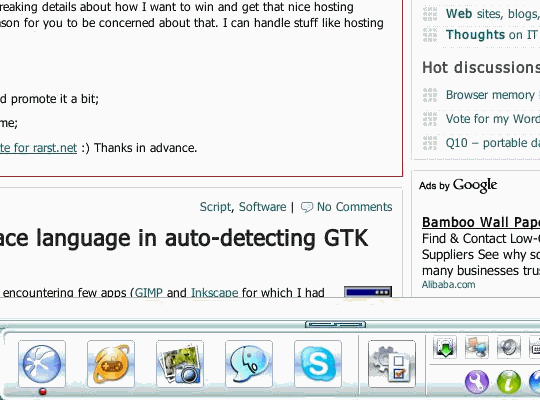 Experience
Express gate does boot quite fast comparing to average Windows installation. Still do not expect anything instantly - it takes quite a few seconds to boot shell itself and (subjectively) even longer for browser.
Network support is good, connection to my D-Link wireless router was properly detected and worked automatically.
Biggest downside turned out to be poor screen resolution support. There was no 1440x900 to choose and even switching to 1280x800 of same proportion asked for reboot but came up at default low resolution anyway.
Overall
Express Gate does more or less what it promises - fast boot with basic browsing and communication. While this might be nice option on netbooks and notebooks, for desktops it is solution in search of a problem.
Short of setting up dedicated PC in kiosk mode I see no advantage of using it over simply booting into Windows.
Link www.splashtop.com/
Related Posts