I resisted buying router for a long time. I mean simple LAN plus proxy software and all is good, why bother with extra hardware lying around?
However, after purchasing notebook, ad-hoc Wi-Fi started to drive me insane fast and I gave up.
Device
DIR-400 is one of newer D-Link routers. I am unfortunate to use some earlier models at work and they really suck. Newer lineup has much better reputation so I decided to go for one.
nice black/silver design;
pretty large (124x200x35 mm);
1x WAN, 4x LAN ports;
could-be-larger Wi-Fi antenna;
supports 802.11b/g with speed of 54 Mb/s (up to 108Mb/s with other D-Link hardware).
Setup
I have somewhat varied devices to network together:
static Ethernet connection to Internet;
desktop PC (refreshed after old one had meltdown);
new notebook Dell Vostro 1310;
N810 tablet;
Nokia E60 phone.
Out of the box router was covered with huge sticker saying I must start with installing software for CD. I had a hunch that this might be bad idea but if they said so…
Upon launching setup from CD it did three things:
promised to provide me with excellent trial (eh?) of Network-something software;
completely nuked my existing network settings;
hanged up.
Fail. I threw CD over the shoulder, plugged router in and connected via web interface.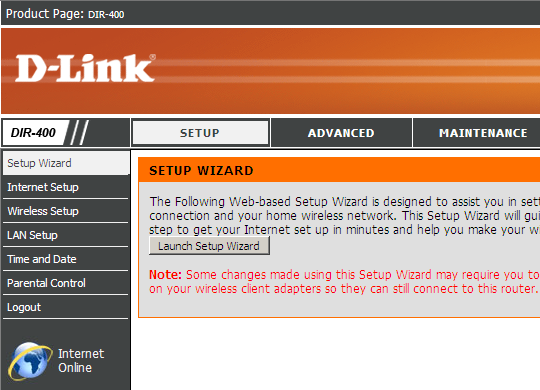 It walked me through initial setup. Pretty easy and it was working right after that. Only things I changed were:
switching security to WPA2;
set up static IPs for devices;
forwarded port 80 to HFS server on desktop.
Firmware seemed pretty outdated so I tried to re-flash it with newer one from D-Link FTP but router had refused to update. No ideas on reason. By the way it is compatible with DD-WRT Linux based firmware so I may try to play with that some day.
Notebook and tablet connected just fine. Phone refuses to see network but it isn't high priority so I left it as is.
Had slight trouble installing Skype on notebook and had to download full installer from FileHippo instead of usual online one.
Operation
Router works flawlessly (for few weeks already) without reboots. Only performance difference I had noticed is uTorrent choking browsing at times. I had it configured according to torrent settings calculator so that might be too many concurrent connections for router to handle.
UPnP support is perfect meaning that all software with support of that just requests external ports from router without need for manual setup.
I had seen some complaints online about problems with ADSL modems but can't confirm it because of different Internet connection type.
Overall
Aside from crappy native software (typical for hardware manufacturers) I am quite pleased with device. After initial setup it requires no attention and software migrated easily.
Router seems to be region-specific product so I have bit of trouble providing good official link.
Well, internals in router lineups are usually close so if not same model this should still be what you will get from recent D-Link models.
Do you have home LAN with or without router? Share your setup in comments. :)
Related Posts