There are mountains of search engine optimization advice out there. Not going into link building the most important advice about so called on-page SEO optimization is not to screw up. It's not about implementing arcane tweaks, it is about following simple and solid guidelines, set by search engines themselves.
SEO Doctor is Firefox plugin that quickly and conveniently checks pages for things that might go wrong with SEO-related factors.
What it does
Plugin sits in the corner of the screen and address bar (both placements customizable) and shows colored flag and out-of-100 score for current page.
On click it shows breakdown by parameters and brief explanations what you have got right and wrong.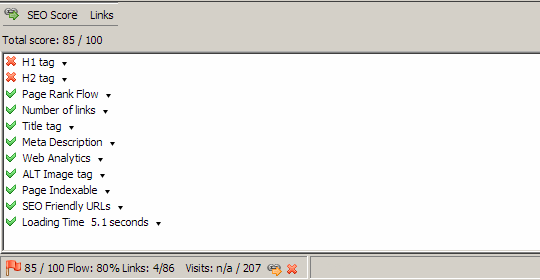 Format seems very similar to what YSlow uses and might been inspired by it. Or not – in any case it is convenient and efficient.
Strong features
Selection of factors seems simply bulletproof. It gets everything (to my knowledge) that is really important and doesn't bother with obscure fluff that makes little sense to mess with.
There are some nifty functions to study ratio of internal/external links, highlight nofollow ones and even export all links from page as CSV.
Right click gives access to options and quick call of multiple web services. Can cut quite a few bookmarklets.
Downsides
The only minor hiccup I encountered is that it gets kinda confused between localhost and domain links on local development stack. It would be nifty to have an option to designate "own" domains so they are not treated as external.
Overall
Excellent tool with good and actionable advices. Must have for every web master.
Home&download http://www.prelovac.com/vladimir/browser-addons/seo-doctor
Now I need to go spend some time with those pesky headings in new theme… One more thing to mess with. *sigh*
Related Posts