I had power blackout for most of Friday evening so spent time hugging my notebook and went over some non-desktop software.
Xirrus Wi-Fi Inspector is app that simplifies locating wireless access points and helps troubleshoot connections issues.
What it does
App detects all access points in range and breaks info down into meaningful presentation.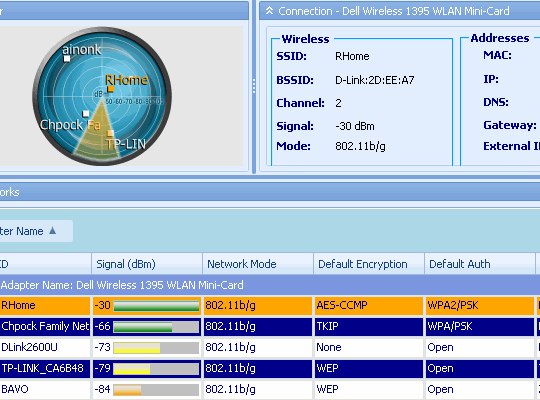 It uses ribbon interface so may seem somewhat bulky, but parts are easy to minimize or turn off.
Main zones are:
current connection info;
radar view of APs organized by signal strength;
table with breakdown of available details for each point;
graph of signal strength for current (and optionally more points) over time.
Strong features
What I liked most is locate feature, must be enabled for access point by right-clicking it in table section.
When it is on notebook starts to… click or something like that. More often when signal strength is strong and less often when it is weak. Very practical way to look for spot with best reception.
Overall
Simple to use with comprehensive information and nice extras. Too bulky for use like constant indicator, but there are slimmer gadget versions for that – see Xirrus Wi-Fi Monitor post at gHacks.
Home&download http://www.xirrus.com/library/wifitools.php (bit broken in Opera)
By the way their page also lists several excellent third party apps related to networking. Including iperf and TCPview I had covered and more I should definitely check out.
Related Posts