Internet connects people. I mean literally connects people not like in some social talk-to-person-half-globe-distant way. Person A can connect directly to person B and they can do something (depending on what software they are using) over that connection.
Sharing files is actually what Internet is. When you are reading my blog your browser downloads files. When you rip music track from CD and mail it to friend he is downloading file (may be bit less legal than reading my blog). :)
Trick is - for downloading files software is need. Browser is software that obviously every Internet user has. If you want to share file with nothing except browser needed to download it you should consider setting up personal server.
HTTP File Server (HFS) is application for making files available for download.
Download and run HFS. Single executable, no need to install.
Drop file or folder you want to share into it.
Now anyone can visit your PC and see that shared stuff by entering your IP address in their browser.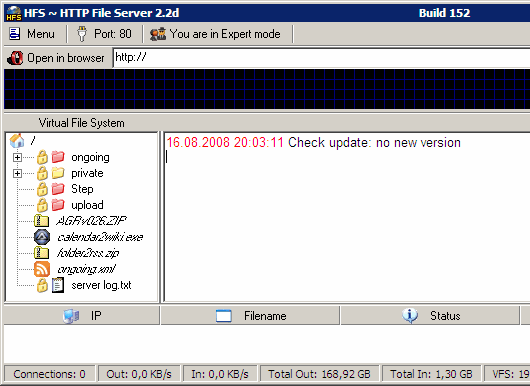 No need for same software on both ends, no need for P2P stuff like emule or torrent, no trouble with sending through instant messengers, no need to deal with advertisement filled file hosting services.
Unlike serious server software sites in Internet use (like Apache) HFS is made exactly for sharing files. This means :
it creates interface pages on the fly, you don't need to mess with HTML code;
it doesn't have any scripting support which makes it extremely secure. There are no known vulnerabilities and amount of access visitors get to your PC is very slim;
you get a lot of control over process including ability to set limits, keep logs, create user accounts and set access rights on files.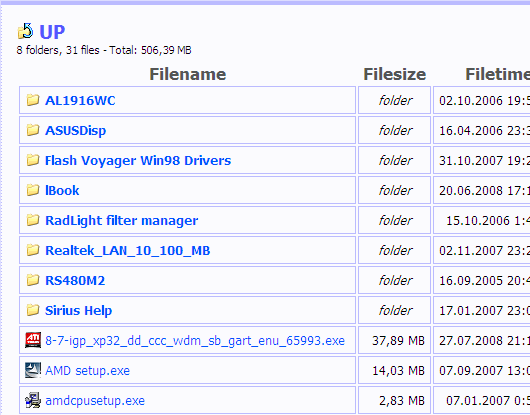 Main downside is that HFS requires IP address that can be reached from Internet. Setup may be tricky for users inside local networks or behind routers. There is separate sub-forum dedicated to port and forwarding problems on official HFS site.
There is also no encryption used. Actually most of Internet is not using any encryption so you have to look for specialized secure solutions if dealing with important data.
I am using HFS for a long time and it's easiest way for file collaboration ever. You don't have to make people use some special client software, you are simply giving them link and you are done. :)
HFS is freeware and can be set to portable in settings ( Menu > Save options > To file ).
Home page http://rejetto.com/hfs/
Download page http://rejetto.com/hfs/download
Official forum http://www.rejetto.com/forum/index.php?board=21.0
Related Posts