I had witnessed more than once backlash and fallout, following posts about shareware on the freeware blogs. Naturally it just irked me to try that myself some time. :)
I had tried actively to find adequate freeware replacement for Total Commander file manager and more than once reviewed soft from this category. But I can only conclude that this is an area where freeware clearly doesn't cut it.
What it does
Total Commander (previously Windows Commander) is classic dual-pane file manager, actively developed and maintained for over fifteen (!) years.
Code base is purposely kept on old version of Delphi for high performance of application (sounds weird but works).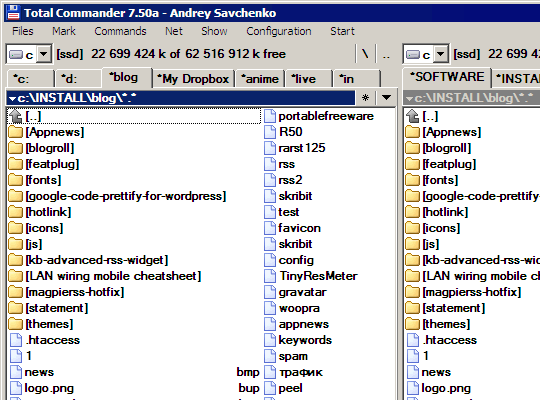 It may look bit plain but it is seriously powerful software.
Strong features
Performance aside Total Commander tries to do things as efficiently as possible and offers many ways to add functionality, not provided natively.
Interface is very flexible looks, toolbars, system menu and file presentation can all be customized.
Number of useful functions, that are usually extras, are integrated and included out of the box:
quick viewer;
file comparison;
file split and join;
queued copy/move;
hash/checksum generation and confirmation;
folder comparison and synchronization;
FTP support.
Total Commander works with archive files (including nested) like with regular folders. It provides native unpack capabilities for multiply common formats and native pack for ZIP. Both pack and unpack can be greatly extended with help of plugins to support anything from mainstream formats like RAR and 7-Zip to specialized packages, used in some games.
Just like with archive software it can integrate external viewers such as Universal Viewer and IrfanView.
Plugin system in Total Commander is so extensive that over that many years there was myriad of plugins to do anything and everything written. Not many of those are official and properly maintained, but vast selection makes up for that.
App can be installed or converted in portable mode and supports relative paths nicely so extras work that way as well.
Downsides
What it can't do it can be extended to do. There is nothing to gripe about in Total Commander that can't be changed, fixed or stuffed with plugin.
The only thing that really came short for me was how it works with secure file transfers. Because of legislation on software and encryption in developer's country he can only provide frame plugin for third party library. This mishmash is unfortunately performs poorly and I had to change to WinSCP for such operations.
Trial version limitations
Trial version is fully functional. After thirty days it starts to show nag screen at startup, but full functionality is preserved.
Developer had said in several interviews over years that he considers active protection unnecessary and it's better for users to get full experience as long as they need so they can pay up when they want and have means to.
Overall
At the very least give it a try (fully functional time-unlimited trial, no strings attached).
For people that missed years when dual-pane file managers where established it might be very different file managing experience. But believe me – paradigms of files epoch work with files much better that paradigms from epoch of icons.
Download http://www.ghisler.com/download.htm
Plugins directory http://www.totalcmd.net/
Related Posts