There are two main aspects good file manager must provide:
Function set for efficient organizing and moving files.
Viewer that is able to quickly open most file types.
Most of software starts with first part, but there are some apps like Universal Viewer that implement second.
What it does
Universal Viewer aims to be single viewer for all more or less common files. It has excellent native support for plain text (full unicode support, fast opening of large files) and basic image types.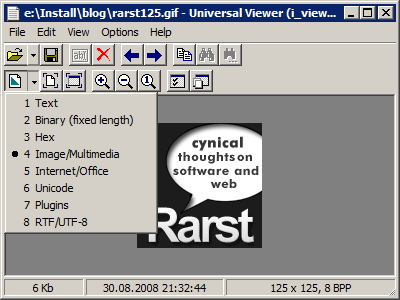 More complex files types are handling by looking for suitable application in your system. So it will use installed MS Word for word documents, Media Player for sound files, IrfanView for images and so on.
Fits specific needs
App is mostly designed for using with file managers. It exactly fits users that have habit of tapping ancient F3 hotkey on everything. First point in FAQ is integrating Viewer into popular file managers .
It is also good as portable. Always having consistent app that you are used to can be more important than sheer number of functions.
Overall
Comes in freeware and shareware (some navigation and file operation extras) versions. Both have true portable separate downloads available.
Home page http://www.uvviewsoft.com/index.htm
Download page http://www.uvviewsoft.com/download.htm
Related Posts