I have issue with task managers – it is called Process Explorer. Whatever specific task manager does it is safe bet that Process Explorer does more and better.
I had updated version for Auslogics Task Manager at Appnews some time ago (Martin had posted about it at ghacks) and downloaded to check out at leisure. So here it is – task manager /viewer/security tool blend.
What it does
App is task manager that adds management for few related things, simple performance monitor and security assessment.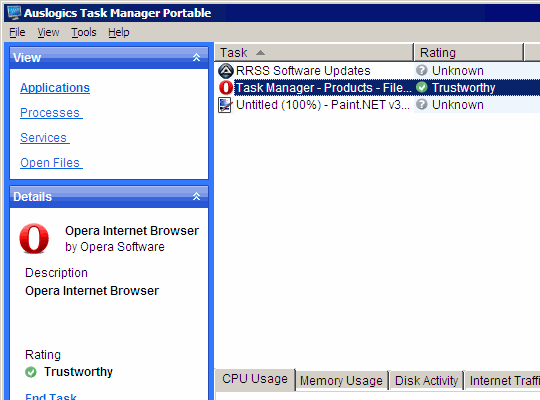 Interface is light and streamlined with fixed sidebar and classic multi-column info area. Sidebar shows info and available actions for selected item. Functions are convenient but limited to basics.
App is also very happy to send you off to File Inspect Library site that acts as encyclopedia for trustworthiness ratings in interface.
Strong features
acts as consolidated process, service and open files viewer;
shows safety indicators for known processes (had no dangerous stuff ready to check how it treats that :) ;
fast access to relevant system utilities from Tools menu;
Downsides
Auslogics Task Manager feels like Process Explorer, Opened Files View and Unlocker mixed, boiled and limited to single spoon serving. It is a pleasure to use for overview but actual management part is shallow.
Overall
Task Manager is not an ultimate tool and doesn't try to be one. More like non-geek version of more powerful utilities. It may fit into family install, but if you are seriously into this stuff you are better off using serious tools.
Home&download http://www.fileinspect.com/task-manager/
Related Posts