After my host's adventures in having their customers badly hacked in spirit of upping security they enabled secure SFTP access to files. I looked up plugin for my file manager and decided it was all better. Except that plugin performance was far from perfect – slow connections, CPU load spikes, mediocre transfer speeds.
So I gave up on it and decided to try WinSCP – open source file manager for transfers over secure protocols.
What it does
WinSCP connects to remote computers via one of supported protocols (SFTP, SCP, FTP) and allows to manipulate and transfer files in file manager fashion.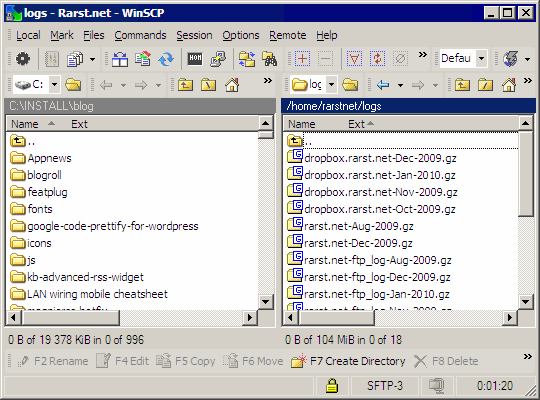 Curiously app offers two different interface styles:
classic dual-pane file manager with one pane dedicated to remote PC and one to local PC:
Explorer-like interface with single window for remote PC.
Strong features
App goes beyond file managing and packs a lot of related and simply convenient features:
Downsides
I have no real gripes so far.
If I had to choose something it would be messy configuration process with settings split between menus in initial screen and in core interface. It took me some time to look through everything and set it up the way I wanted.
Overall
Smooth experience and set of sophisticated functions. App is pleasure to use and works without resources and transfer hiccups.
Home http://winscp.net/
Download http://winscp.net/eng/download.php
PortableApps http://portableapps.com/apps/internet/winscp_portable
Related Posts