Wallpapers are most ancient form of computer eye-candy. Popular enough to generate sea of low-quality images where masterpieces are hard to find. If you ever wondered why can't good wallpaper choose itself and jump from Internet directly to your desktop then John's Background Switcher is program for you.
What it does
App changes Windows wallpaper and is really good at that.
Display modes
stretching and scaling to fit the screen;
mosaic with tiny thumbnails;
four images per screen;
scrapbook with few images styled as scattered photos.
It gets even better with multiply monitors – switcher can display different images on each of them or stretch single image creating panorama.
Online sources
What is modern application without strong online integration? Soon you won't be able to type Word document without getting few comments and badge for awesome text markup skills. Ahem.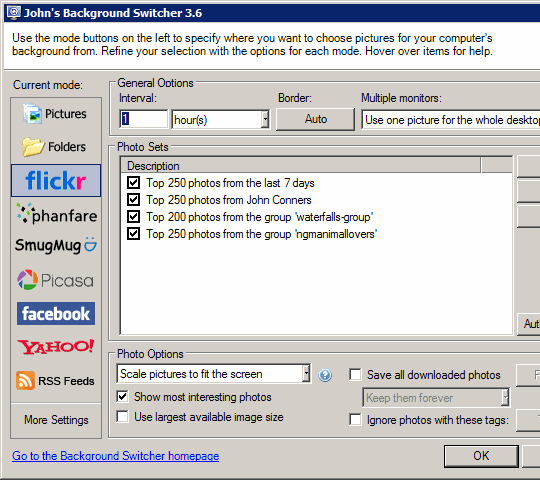 App has excellent integration with online services. After initial setup your wallpapers will just show up by themselves – fresh and gorgeous. Latest version added support for Media RSS format which made it compatible with any site that publishes such feeds. Comes pre-loaded with lolcats , doesn't get better than that.
Resource footprint
Program uses .NET Framework for sake of development simplicity and compatibility. As result is eats big amount of memory – over ~30Mb when idle. As an alternative to keeping in background there is command line switch /next available that will run app, switch wallpaper and exit. Usable as autorun entry, shortcut, scheduled task, etc.
Overall
Switcher is wallpaper mutli-tool. It is seriously most functional (and still freeware) app of this type . Personally I'd like something light and portable so I could easily drop it on computers with all settings in place and I expressed this opinion few version ago to developer. App didn't really shape into something like that, not bad just different.
Media RSS support is awesome (everything RSS is awesome) but I'd like it could hack into regular feeds as well. Not as accessible as current option but I got addicted used to parsing RSS lately, just look at sidebar and footer. :)
PS no Interfacelift support :(
Home&download http://www.johnsadventures.com/software/backgroundswitcher/
Related Posts