I still have not filled a slot for some application to search images by color. In comments for my post on ImageSorter Cassandra suggested Photology.
It turned out to be image viewer with really interesting search options.
What it does
On first launch Photology asks for directories with images to index. Then all images from those directories are loaded into thumbnailed view with extensive search options.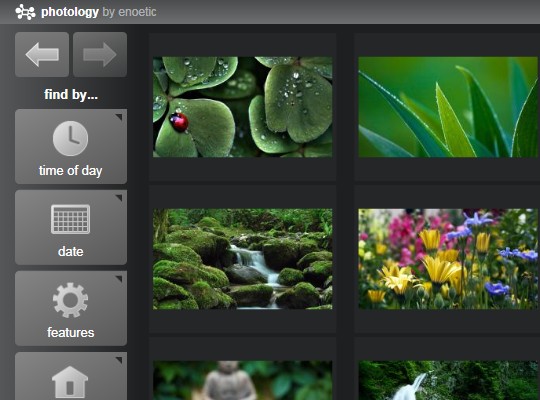 Interface is very custom (which I often find annoying) but in this case it fits app well.
Images can be viewed individually and there are some online sharing and simple editing options.
Strong features
Search is definitely the main feature here. Aside from colors app has modes to search by image properties (such as date and time of day image was made) and content (such as scene).
Color search is very solid – there are a lot of hues to choose from and it finds images both heavy on color in general and those where only some parts are prominently colored.
Searches can be combined together, for example photos made in the morning that contain flowers and yellow color. I tested on my wallpaper folder and imagine this would be even more interesting with own digital photos.
Downsides
Initial scan is extremely CPU intensive and took minutes to complete (700 images). If you have a lot of images be ready to throw serious CPU at them or take a long break.
While searches can be combined it is limited, for example it isn't possible to search by two colors together.
Sadly app's developer seems to gone poof so it is neither developed or maintained.
Overall
Very interesting search functionality that isn't perfect but still much more complex than is usually available in image viewers.
Download http://www.softpedia.com/get/Multimedia/Graphic/Graphic-Editors/Photology.shtml
Related Posts