It is not uncommon nowadays to stare at multiply computers on same table. While the more displays the merrier, multiply keyboards and mice only add up to confusion. There is option of running PCs headless with remote control (like TIghtVNC) but transferring screen in real time is more functional than convenient.
Input Director approaches it from another angle by allowing to control multiply networked computers with single keyboard and mouse.
What it does
App follows client/server model, same installation can act as both. At least one computer must run as master and its keyboard and mouse will be used for controls. Slaves attach to master and after that mouse cursor is able to jump from computer to computer. Much like it does with multiply monitors. connected to single PC.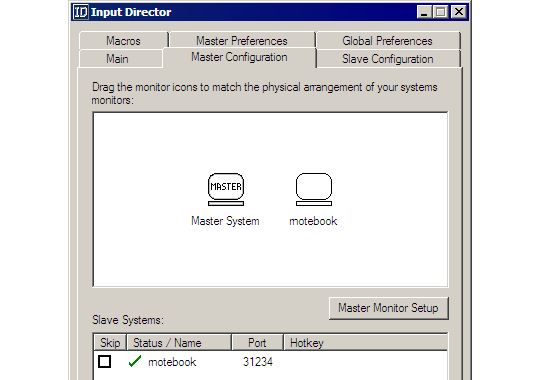 Settings allow to set how are computers physically situated for best fit. Keyboard sends input to whatever computer that currently has cursor.
Strong features
runs as service, works on screens such as logon;
strong security options with IP filters and option AES encryption for all traffic;
UDP connection delivers good performance, even over naturally laggy wireless connection;
optional synchronization of shutdowns, locks and screensavers;
shared clipboard.
Needs and wants
I absolutely love this one for my home LAN. Settings are bit cluttered, but most of them are safe to skip anyway.
Unfortunately app is only free for personal use (no pricing details on site) and lacks portable version, so it's unlikely that I will use it for work.
Bit annoyed issue with minimize command on my Logitech MX500 mouse – it is always sent to master desktop. I click that all the time and still hadn't used that it wont' work on slave notebook.
Overall
Software implements good idea, which is good enough. But what really makes it awesome is great attention to details and performance.
Home http://www.inputdirector.com/
Download http://www.inputdirector.com/downloads.html
Related Posts