I have bit of love-hate relationship with this file manager. It is one of the few modern and free managers that try to uphold classic dual-pane paradigm. On other hand it manages annoy the hell out of me in actual usage.
So, taking apart what can it offer and what it can't.
What it does
App has two panes split vertically (or optionally horizontally) in line with classic file managers. It is suited to work both with mouse or keyboard and set of historically established hotkeys.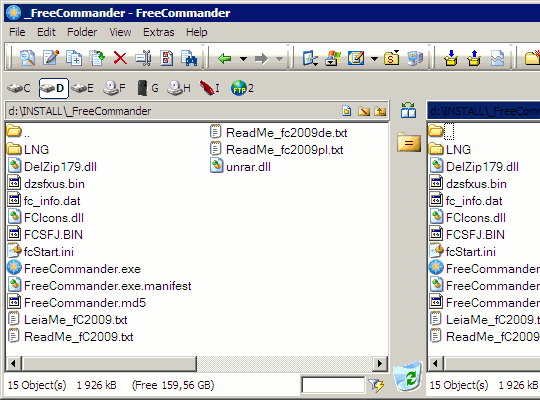 More recent additions like tabs and separate folder trees are supported just as well.
Strong features
FreeCommander is highly feature-packed with many internal functions and tools, including:
flexible filter and selection options;
secure file erase;
hash generation and verification;
file rename tool;
directories comparison and sync;
support of external editors and tools.
It packs really extensive functionality without becoming overly heavy or bloated.
Downsides
For all strong features I personally feel like they overshadow important usability aspects:
in some places color scheme glitches and text ends up unreadable;
in most of views you have to click exactly file/folder name to select it, instead of its line in grid;
it often lack visual feedback for clicks and hotkeys, that creates learning curve where there shouldn't be any;
there is no option to select with right mouse button and believe me for those who got their file managing reflexes ironed out before context menu was invented – that is a big deal Extras->Settings->Select Items->NC-Mode thanks to comment from Marius!
Overall performance seems mediocre (you don't know fast file manager until you've seen Snowbird). Icons are especially annoying and constantly being re-drawn which makes them flicker when switching between directories.
It also uses Windows native routines for file operations (copy, move,delete, etc). Works most of the time but not really common or desirable in third party file manager.
Development
App was developed quite actively, but pace had slowed down to a halt, with only two releases in last year. From searching app's forum it seems that next minor release can be expected some time in next six months and next major version is at pre-alfa stages (site has screenshots that show large changes in interface).
Overall
FreeCommander is seriously feature-packed file manager, one of the strongest free and natively portable (stand alone or in PortableApps format) options at moment.
But despite following classic formula it has considerable interface and performance shortcomings which makes it inferior to more hardcore alternatives.
Home http://www.freecommander.com/
Download http://www.freecommander.com/fc_downl_en.htm
Related Posts