I was looking for something to create few flowcharts. I do have Visio at work, but I don't mix well with MS Office.
Almost instantly (Portableapps read my mind) I got Dia, described by developers as Visio-inspired diagram software for casual use.
What it does
Dia allows to quickly and easily create various diagrams. Approach is unified for different sets of symbols (from classic flowcharts to Cisco and cybernetics) and you can use any elements in same document.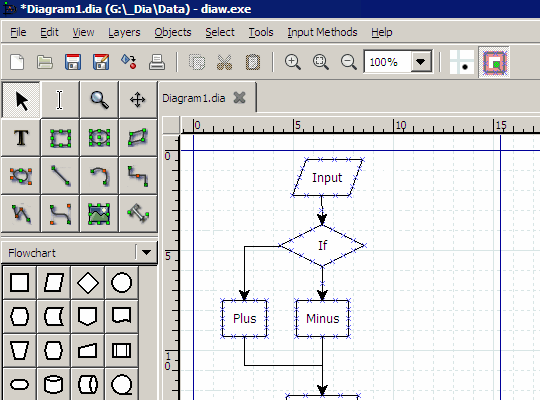 My expectation was to get mess of an options and some learning curve, but Dia is quite opposite. Interface is streamlined. Large sidebar part practically holds all of it – tools and library of elements.
Strong features
library of multiply symbols;
excellent interface with zero learning curve;
can be extended with additional sets (XML+SVG) and Python plugins.
Downsides
While some office-related software (like OpenOffice) aims to be full replacement for Microsoft suite, Dia is more of home use alternative. It primarily uses own formats for diagrams (there are export options on other hand) and for sets.
It is good by itself but isn't (and doesn't aim to as of now) drop-in replacement for Visio.
Overall
Easy to use software for diagrams, that is open source, cross-platform and natively portable.
Home http://dia-installer.de/index_en.html
Download http://dia-installer.de/download.html
PortableApps http://portableapps.com/apps/office/dia_portable
Related Posts