Antivirus software is mostly used in background monitor mode. It sits in the tray quietly performing important tasks like cleaning viruses in your email and slowing your computer down to a crawl when you try to open big archive. :) Important part of security but it has one major problem - it is vulnerable to viruses. Contradicting, isn't it? If virus is very new one or antivirus is not updated properly…
Lots of viruses:
Try to kill installed antivirus.
Prevent (re)installing antivirus.
Solution to this comes in the form of portable antivirus scanners. They don't have background monitor function and need no installation. They are often freeware trimmed down versions of commercial products.
I am using two such scanners - Portable ClamWin and DrWeb CureIt!. Yep - I am going for detailed review that ends up announcing that both are good for different stuff. Seems like a trend with my comparison posts. :)
Portable ClamWin
This scanner is portable (via PortableApps) version of ClamWin. Which is Windows version of freeware and open-source ClamAV antivirus. Which is rather famous (mostly for being freeware and open-source). It comes as setup executable that must be installed once to get it portable and running. Virus definitions not included and are downloaded (and updated) by program internally.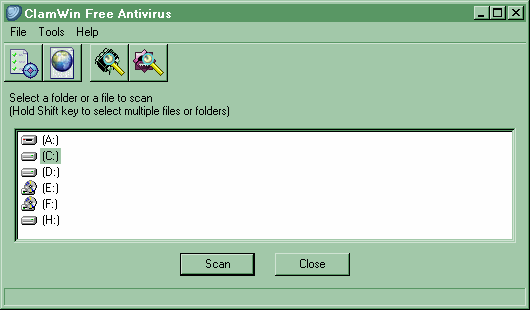 There is no default action on launch - you get interface with few simple buttons for updating, scanning computer memory, scanning specific drives and folders.
Plenty of deeper options are available in "Preferences" like exclusions, logs and generating email notifications. Default setting are to report viruses only and skip certain files like logs and big archives. By default logs are written to program directory.
DrWeb CureIt!
This scanner is freeware version of commercial DrWeb antivirus. It comes as single executable which is self-extracting archive that unpacks to Windows temporary directory and launches scanner. Virus definitions are included (always most recent). There is no option to update them - for that you must re-download scanner.
On launch you get small nag screen and option to choose interface language (over 30 available and it tries to start with one that fits Windows regional settings). If download is not fresh it notifies how old it is and suggests to re-download.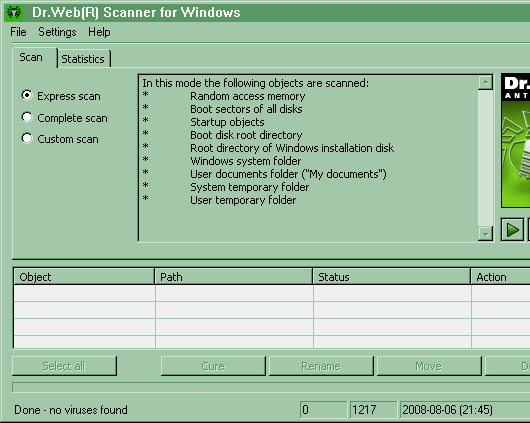 After that "Express scan" is launched which goes through memory and some usual places for viruses to nest (see screenshot above for complete description). Interface is slim but offers more explanations and info than ClamWin. In addition to manual targets choosing there is "Complete scan" that simply goes through everything on PC.
Less settings than ClamWin has. By default there are some archives (detected by extension) skipped and log is written to current user's profile directory.
Which one to use?
ClamWin provides more options and is capable of self-updating. It's not exactly user-friendly so is better choice for person that knows what is needed and willing to tweak scanner accordingly. Has distinct open-source taste. :)
CureIt! is way more friendlier and can be used even by clueless person. Automatic express scan, easy complete scan option and multiply interface languages make it excellent choice for end-user. Has distinct adware taste. :)
Portable ClamWin home&download page http://portableapps.com/apps/utilities/clamwin_portable
DrWeb CureIt! home&download page http://freedrweb.com/cureit/
Related Posts