Free Download Manager (FDM) is not cool title, it's actual name of a program. Very search engine friendly, isn't it?
In the crowded and long-established software niches there are two ways to succeed:
Offer more.
Offer everything.
FDM takes second approach to make place for itself among numerous popular download managers.
What it does
Initial purpose of download managers was to offer better speed and stability while downloading files. It is still valid and achieved by splitting downloads in multiply parts and streams and resuming broken ones.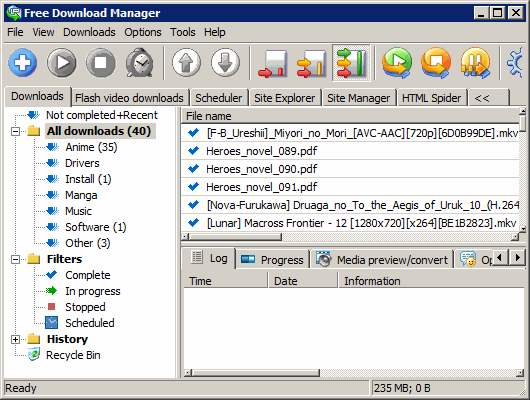 But Internet is moving forward and downloads are no longer limited to grabbing file from server. FDM handles downloading of:
files from HTTP/FTP servers;
files from BitTorrent (with help of libtorrent based plugin);
batch downloads with number or letter variables in file names;
site explorer for easy setting up multiply downloads from single source;
HTML spider to download web-sites.
App is download hub. It's not going to beat separate tools like utorrent for specific tasks. But it combines a lot in single place. Which is strong plus for reducing number of software but having rarely needed functions few clicks away.
Productivity
Personally I like FDM most for flexible options that simplify downloading itself and what happens after:
it can schedule download to specific time or even for repeated downloading which is great for files you need updated (like CureIt portable antivirus);
categories system manages where file will land;
site manager allows separate setup for different servers (or even different pages on same server) like number of connections and default category.
Downsides
Development of FDM is bit strange with plenty of minor "build" releases. It's mostly bugfixes – keeps you updated but no promises of stuff coming. Still it is very usable as it is so adding features is probably not a priority.
I also had bunch of crashes with small server app that comes with FDM to be used for remote control of downloads.
Wish list
I wonder when download managers start adding downloads from RSS. Torrent ones are barely began to and it is nowhere in sight for http/ftp ones. Sounds like an interesting task to code in AutoIt.
Overall
Does almost everything download-related and is pretty good at it. Freeware and open source (GPLv3). Comes as installer but can generate portable version from its menu File > Create portable version.
There is also Lite version that does not include any plugins and additional languages.
Home page http://www.freedownloadmanager.org/
Download page http://www.freedownloadmanager.org/download.htm
Blog http://www.freedownloadmanager.org/blog/
Related Posts