One of the most common complains about computer is slow startup time. Sometimes it can be improved by defragmenting hard drive but mostly stuff that starts automatically at each boot is at fault.
There are two ways to handle that:
Stop turning your computer off - works really well.
Sort, manage and fix startup stuff – works well if you have right tools.
AutoRuns is ultimate tool for managing killing startup entries.
What it does
AutoRuns looks for any and all startup entries in Windows and combines them in single interface.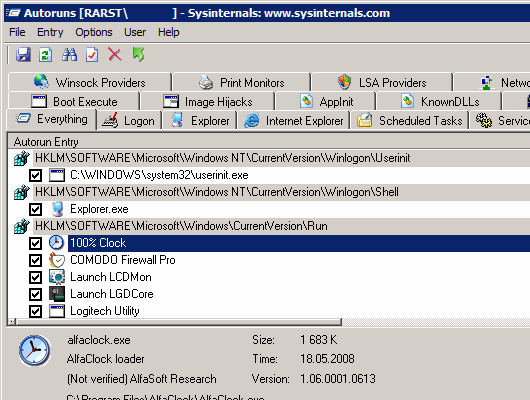 shows details about target file;
allows to delete entries;
can open folders and registry keys where entries are made.
How to use
App is not exactly user-friendly. It only provides you with means to do something without making any suggestions about entries. Mostly it is useful for deleting obviously broken entries and those for software that doesn't provide option of disabling autorun.
Power users on other hand can find plenty of additional value for troubleshooting driver issues and fixing debugging hijacks viruses are so fond of.
Overall
It's best at what it does. AutoRuns is one of the Sysinternals utilities and as rest of them is freeware. It creates some registry entries but works without installation so can be used as portable.
Download includes command line version as well.
Home&download page http://technet.microsoft.com/en-us/sysinternals/bb963902.aspx
Related Posts