Hadn't had any multimedia posts in a while, K-Lite Codec Pack and uTorrent satisfy my needs completely.
Miro media player survived few years (and name changes). With its focus on online media and torrent it just might be what modern media player is about. Or is it?
What it does
Miro promises wonders of torrents, RSS and tons of gorgeous HD video, all the buzzwords. Curiously while it sounds like toy for techies actual usage experienced is much closer to something average user might like.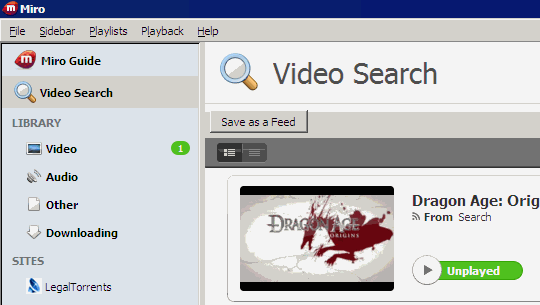 App features can be roughly divided into:
Tech inside
Being open source GPL project, app uses plenty of known components:
All of this is trivial, so Miro is more of exercise in interface usability than software innovation.
Strong features
What I liked is that it is absolutely easy to use:
For mashing that much of technology together Miro is very easy to deal with.
Shortcomings
As hard as I try to keep techie instincts in check for this post… Miro comes too close to point where good usability dumbs experience. It is great to near instantly have a search feed on any topic but it sucks to have zero insight in size and quality of what was actually found.
Old version of Miro seemed to have bit of resource hog reputation. I only tried latest (described as major performance improvement) and it works quite fast. Still makes occasional spikes of activity for no apparent reasons. It especially likes to keep hard drive occupied crunching something.
Oh, and I am stunned by lack of UPnP server or at least player in it. I know it is still rare toy, but if Miro isn't perfect match to have it then I don't know what is.
Second oh – no thumbnails for MKV. Seriously, it may not be buzzed but that container sees tons of usage in some areas.
Overall
Value you can get out of this one completely depends on what you are looking for. Stupidly simple interface (what Miro essentially is) can be perceived both as advantage, weakness and anything in between. Try it and decide from there.
Home&download http://www.getmiro.com/
[update 2009-08-21] @davidgilson had poked me on Twitter about extensive Miro review he had done earlier this year. Coming from person who had used it for a while it provides better look at some parts than my fresh impresison.
Related Posts