It is all about torrent in recent years however file sharing bloomed long before it and some methods are still alive and kicking.
eMule had started as alternative client for edonkey2000 (ed2k) file-sharing network and had easily survived everything official about that network sued to death.
What it does
eMule connects to vast network of other people using eMule (or other clients compatible with network) and sharing files.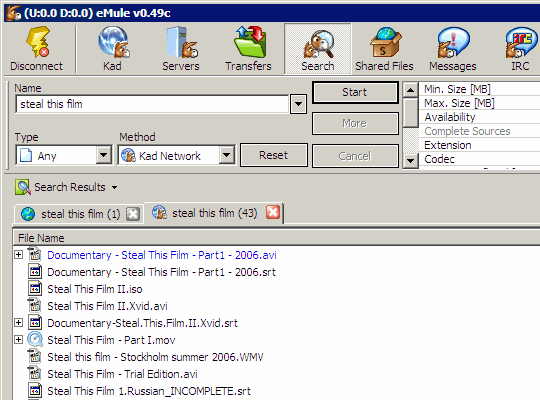 Unlike torrent where each file or batch exists in separate bubble of stand-alone file with hashes and limited amount of trackers ed2k network is more free-form. Files are identified by hash and links to files are merely text URLs in specific format.
Search methods
ed2k was originally designed for use with centralized servers that handled file searches and connection between peers in current form it has several concurrent methods:
server infrastructure (sometimes used to create isolated local sub-networks);
Kad network – decentralized, server-independent addition used for file searching;
peer exchange – known sources for files are passed around and can even be embedded in links as IP addresses.
What it is good for
Long history and consistent user base makes ed2k perfect place to look for old files. With millions of people in there probability that someone has that rare thing you need shared is relatively high.
Ease of file identification had also made ed2k common form of meta-data in some media databases.
Downsides
as any file sharing method network is choke full of copyrighted content. Piracy is eternal.
there is number of rogue servers that tries to serve malware instead of legit search results;
comparing to torrent downloading with eMule can be dead slow with low number of peers and long connection queues.
Overall
Despite becoming secondary eMule/ed2k file sharing still has stable user base and is often best bet to search for rare files. It's a tool that withstood test of time and losing parent company. We have yet to see if torrent pulls that of as well. :)
Link http://www.emule-project.net/
Related Posts