People have very different preferences about color schemes comfortable for reading. However they rarely use options (like read-enhancing bookmarklets) to actively change colors. If you are making site, presentation, document or whatever else that has text – you want to use easy to read color scheme for it.
Colour Contrast Analyzer is excellent utility to check text to background contrast and see if it passes legibility recommendations.
What it does
Contrast Analyzer allows to pick foreground and background color and runs them against W3C recommendation for contrast ratio.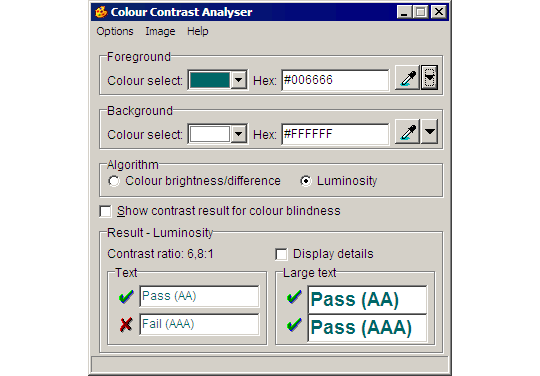 It automatically does all calculations and generates preview for normal and large text sizes.
Strong features
multiply ways to input colors (palette, hex code, color picker);
set of hotkeys for fast operation;
additional calculation to account for color-blindness;
preview and image generation for visual impairments.
Overall
App is very convenient for basic checking and creating color schemes for text but also has impressive additional functions for deep accessibility checks. Must have for working with any text that strays from black on white. Freeware and completely portable.
Home&download http://www.paciellogroup.com/resources/contrast-analyser.html
Related Posts