When something goes wrong in Windows without apparent reason it is good idea to check if OS itself noticed something broken. System logs are accessible with (buried deep in menus) native Event Viewer utility, but without facelift it got on Vista – it is still clunky on XP.
MyEventViewer is alternate Windows log viewer from Nirsoft that provides access to same events but in more convenient interface.
What it does
Unlike native utility MyEventViewer displays all logs (system, application, security and added with recent versions Internet Explorer) together and offers filtering by:
log;
event type;
time frame.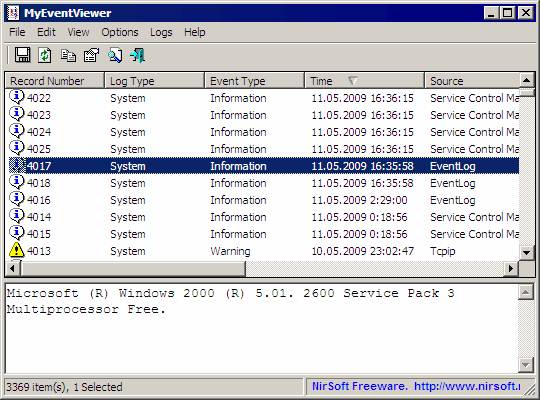 It makes much more convenient system when troubleshooting because it is easy to hide non-error messages or those that happened before problem surfaced.
Strong features
Strong side of MyEventViewer is not powerful features (not many things you can really do with logs) but usability improvements:
abovementioned fast and easy filtering;
customizable set of interface columns;
fast and clean export into HTML.
It can also connect to logs of remote computers but instead of being included in interface this function is inconveniently command-line only:
MyEventViewer.exe /remote \\MyComputerName

Overall
As long as XP still going strong this is excellent utility for troubleshooting. Tiny, freeware and completely portable. Altogether it may not be as powerful as native Event Viewer but more streamlined and easier to use.
Home&download http://www.nirsoft.net/utils/my_event_viewer.html
Related Posts