Windows has enormous amount of small and large system utilities (some of them present since as early as Windows 3.1). Some of them are easy to find in places like Control Panel, some can only be launched by specific executable name.
Overall it is far from user friendly, but over time all those executables became more or less documented and some utilities provide easy access to them. XPSysPad is one of those.
What it does
XPSysPad has simple interface with basic list of running processes and extensive menu.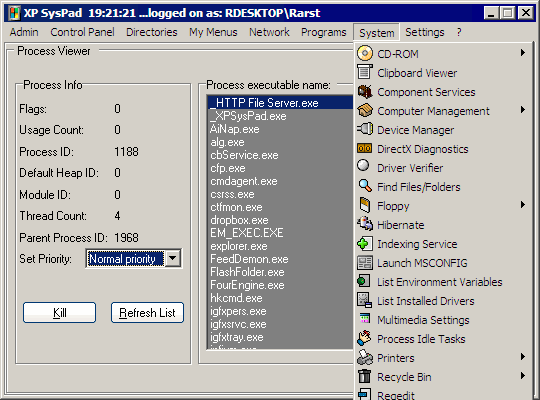 Menu provides fast access to:
administration consoles;
control panel applets;
system utilities;
system and profile folders.
My main complain with folders is that it can only be used to get access to specific files. Folders themselves cannot be opened from menu. I'd like menus to be accessible from tray icon as well.
Overall
I'd say that for using specific Windows functions daily it is better to create direct shortcuts or use text-based launcher (such as SmartStartMenu). However XPSysPad was designed as an app for novice users and exploring. It can be real time saver for looking up rarely used stuff as well.
Writes some settings to INI file in Windows folder but works without installation. I have no idea if it works in Vista, but my guess it won't. Could someone confirm that please? :)
Home&download http://www.xtort.net/xtort-software/xpsyspad/
Related Posts