Thanks to zoo of version control systems spawned on my computer I found myself often in need to adjust or add/remove environment values in Windows. Native editor is functional but about as far from convenient as it gets.
I was pretty sure there are tools around for that and Rapid Environment Editor seems to be very popular choice.
What it does
RapidEE reads environment variables and presents them in graphical interface. Graphical interface that is actually usable comparing to native one.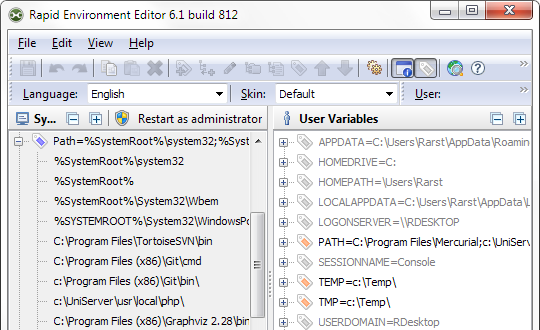 Variables are split into system and user trees and color coded by type. Plus there is bright red highlight for paths that don't exist in file system.
Strong features
The killer feature is that app unwraps long strings of texts (like PATH) with multiple pieces of data into tree branches. Presentation is much better, it is easier to add or remove something precisely and values can even be dragged to reorder.
Downsides
I hadn't used app that long but with all my nitpicking skills I can't think of anything. Disaster waiting to happen? Between backup functionality and save confirmation - less than usual. Portable version? Check. Command line operation? Check. I give up.
Overall
It is fantastic to see app that well done for a function that is far from mainstream.
Related Posts