Software bloggers have to snap and process a lot of screenshots (unless they write crappy news fluff). And from those whom I know we agree on two things:
Last free version of FastStone Capture is best screenshot tool ever.
PicPick Tools just might be the one to replace it.
What it does
PicPick follows proven formula:
allow user to take screenshots the way he wants;
allow user to save screenshots the way he wants;
add extra nifty tools that person who makes screenshots might want.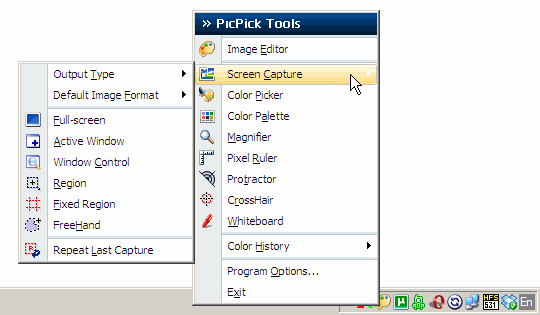 App has no window or toolbar for calling tools, only tray menu. Most functions can be called with hotkeys (as it should be) and app is nice enough to provide FSCapture-compatible hotkey set.
Strong features
As there are many ways and habits to take screenshots PicPick caters to that with quite extended list of functions, not worth blindly repeating. What I liked most (probably for being missing in FSCapture):
capture region with fixed dimensions (I need screenshots of specific width for this blog);
re-capture with last settings (very convenient);
throw screenshot into external app (took me few minutes to look at examples and figure out that it requires <%f> as parameter to work with Paint.NET);
crosshair tool rocks (I had essentially used FSCapture region capture as such, dedicated tool is nice).
Overall
While PicPick goes further than FSCapture in some areas it still doesn't fully replace it at moment. But with ongoing and active development I can easily expect that. Even as is – it is excellent, freeware screenshot tool with completely portable version.
Home http://picpick.wiziple.net
Download http://picpick.wiziple.net/download
Related Posts