Software for syncing files really likes default settings. Making you choose between obscure Mirror , Update or even Contribute when you only need your files copied (without much trouble).
SyncEXP is file synchronization software where you set the rules.
What it does
SyncEXP allows to setup multiply sync tasks (source->destination) with very flexible settings.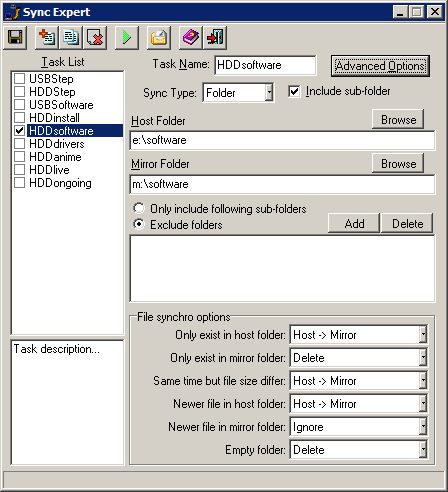 You have total control of which files or directories are copied, what to skip, how to handle size clashes and even speed of file transfer.
Less clicks
After initial setup tasks can be set to Advanced Options > Auto Mode . Such tasks won't ask for confirmation (progress window still appears).
There are also command line parameters:
SyncExp.exe /aTaskName launches task by name
SyncExp.exe /a launches all tasks set for Auto Mode
Basically you can set tasks to auto and create single shortcut that launches them all. That's how I use it and no reasons to even open setup interface.
Downsides
There are some minor glitches in sync logic – like copy routine may be performed before deleting one which makes sync fail if free space in destination is low.
I have also seen reports of it failing to sync files with localized characters in file names – like Japanese.
Overall
App is donationware (fully functional) with shareware version available that adds sync over Internet - SyncEXPnet. True portable as well – single executable plus config and log files that are written to same directory.
Home site is bit advertisement stuffed and I was surprised to see myself in testimonials, they kinda ripped my comment from Pathsync post at Freeware Genius .
There is also support site that has way more useful info and clearer download options.
Home page syncexp.com
Download syncexp.com/syncexp.zip
Related Posts