It's amazing what amount of stuff is gathering dust in my install folder. Ahem.
Anyway today's folder diving brings us rare guest (I am not a fan of bundles) – traditional multi-utility package for system maintenance PowerPack.
What it does
As usual in this kind of bundles app offers selection of multiply utilities in unified interface.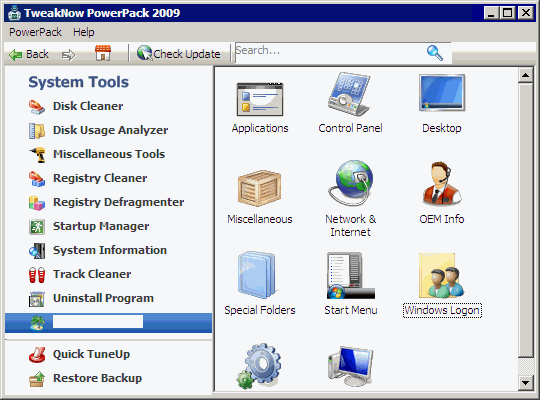 As for range of functions in this one – it focuses on system cleanup and tweaks, with minor additions of informational functions.
Strong features
Developers weren't lazy to combine good selection of tweaks in this one. Registry tweaks aren't complex but remembering specific tweak when you need it is. App brings together plenty of tweaks and they are organized conveniently enough.
Downsides
Interface is really subpar. It feels like it can fall apart any moment and that doesn't really inspire faith in app's quality.
Cleanup modules work good enough from what I tested, but file cleanup relies not on places (like CCleaner) but on file types. This can really backfire at times and not suitable for launch and forget operation.
Informational parts are less than stellar. It couldn't detect such basic things like CPU frequency.
Overall
This is definitely Glary Utilities evil twin – with much better tweaking functionality, but inferior in rest of features and interface polish. Developers should exchange notes or something.
Home&download http://www.tweaknow.com/powerPack.php
Related Posts