Bundling computer utilities together is serious tradition predating Windows. I mean it would be pretty hard to sell ping.exe but look what adding Windows on top did to it. :)
Jokes aside packages of repair utilities make perfect sense because it is hard to predict what is going to break next and it takes quite a few measures to keep Windows healthy.
Life cycle of service utilities packages
Some small or large company creates good package of utilities.
In year or two it is widely adopted.
It is getting harder to sell new versions so package is stuffed with useless excessive functions that bloat it and destroy appeal.
In a year or two adoption is reversed, product is forgotten and there is space for new one to come.
This cycle works like a clock and it is yet to be broken. It is important to be aware which package is at its prime and today it seems to be Glary Utilities.
What it does
Package aims to provide easy Windows cleanup and troubleshooting in unified interface.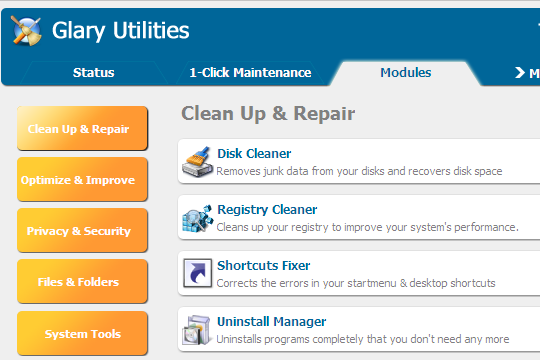 It looks nice but actual organization of functions by category far from good. It looks like goal was to distribute tasks evenly instead of making it easy to find the one you need.
1-click maintenance
Bulk cleanup mode is impressive with fast scan and decent results (on par with CCLeaner I think). It also lists spyware/adware removal among functions but without malware database and updates I fail to see it as usable.
Set of functions
Registry
File
cleanup;
shred;
undelete;
encrypt;
split;
find duplicates;
space usage;
System
memory optimizer;
startup manager;
process manager;
uninstall manager;
context menu editor;
Internet Explorer add-ons editor.
Few more secondary or outright useless (who still believes in memory optimization?) ones.
What is missing
I was amazed to not find Windows tweaks. Those registry values that control so much stuff and are such pain to edit manually. And so easy to make utility for.
Not extra important but I have trouble remembering a single utility package of the past that had not offered this in some form.
Distribution
App is freeware for personal use with shareware version available. Site is clearly missing feature comparison between them.
Default freeware download comes with optional toolbar but there are also no-toolbar and portable versions.
Overall
Decent utility package that comes as portable and provides good array of functions. Very novice-friendly and that is probably target user segment. Power users (like me) would probably be disappointed with shallow interface and oversimplifying of utilities.
It is fast and nice but without that excellent balance of depth and convenience that makes such packages tick.
Home http://www.glaryutilities.com/
Download http://www.glaryutilities.com/builds.html
Related Posts