When I encounter very same app few times in a row I feel like Internet is trying to tell me something. PSI To The Rescue post over at Paul's blog was last push to revisit Secunia Personal Software Inspector scanner.
What it does
PSI is scanning software for updates (common concept and I had covered FileHippo update checker) but with a focus on security instead of simply getting latest version.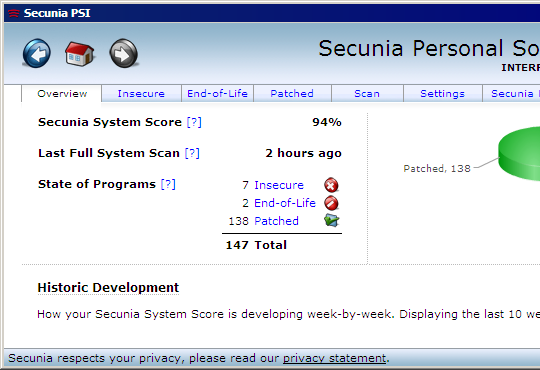 Scan is very thorough and goes through all files on hard drive. So some library (DLL) components may be detected in numerous places – something most updaters surely miss.
It also provides links to downloads and security details.
Past experience
I had tried very early version of PSI just after initial release. I liked concept at the time but it was pretty raw and scanning of DLLs was definitely overkill. It can be outdated all right but tiny file in the corner of app that works with images and doesn't touch network is not a security risk.
It clearly concerned developers as well because current version spends a lot of effort to separate critically important issues from paranoid ones.
Simple mode
App now defaults to simple mode that highlights important issues. At my desktop PC it detected:
outdated component of Adobe Flash, it was leftover file and I had latest version installed;
outdated Java Runtime, true – had not yet installed recent update.
After fixing these two it congratulated on achieving 100% score and offered to share it via email.
Advanced mode
For users with technical knowledge as interface puts it. It shows additional options and way more objects of interest. It detected:
outdated 7-zip executables, bundled with some utilities;
outdated PHP version in my local test server setup;
outdated version of Free Download Manager as end-of-life (no security risk).
Needs and wants
Separating interface in two levels made PSI much more flexible. However app is too fast to congratulate user in simple mode without making it clear advanced issues are possible. Also end-of-life apps should be included in simple mode as well (clearly marked as no security risk).
I was annoyed to see PSI kept habit of silently adding itself to autorun. That may be easier to novice users but still sneaky and I expect a prompt for such behavior.
And it could really use portable version. I would love to have it in my portable setup, I can manage my desktop just fine but PCs at work are different story. At least there is online security scan version that runs from browser (on Java) and checks biggest security risks (browsers and related).
Overall
Most excellent security utility. Designed for deep scanning and background monitoring.
Home&download http://secunia.com/vulnerability_scanning/personal/
Related Posts