Small utilities bundled with Windows are often blamed… For anything actually. For eating hard drive space, being insufficient, too simple or too complex, etc. Some stay as they are forever, some actually have improved versions.
PowerToy Calculator is unofficial calculator replacement from Microsoft.
What is does
PowerToy Calc is text-based calculator. It means that instead of inefficiently clicking virtual buttons you simply type something, hit enter and it is calculated. All calculations are shown in history log.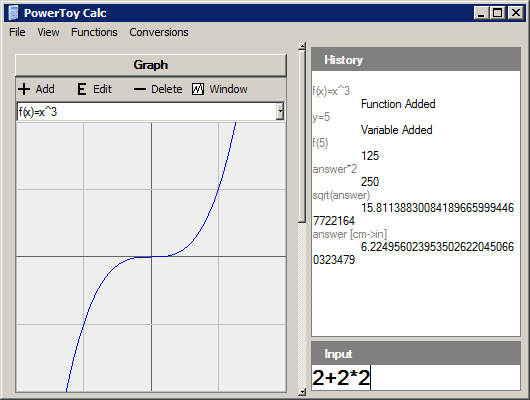 It also handles quite a few things beyond simple math:
converting values;
defining functions and variables;
drawing and saving graphs (XY and polar);
working with decimal, hexadecimal and binary.
Overall
Easy to use and very copy/paste friendly. Freeware. Doesn't work on Vista. I hadn't bothered to check if it is portable but it works without installation.
Download link http://download.microsoft.com/download/whistler/Install/2/WXP/EN-US/PowerCalcPowertoySetup.exe
Related Posts