Sooner or later troubleshoot sessions tend to serve you giant pile of text called log file. Sometimes format is well defined and popular, with specialized software (like Apache Log Viewer recently covered at gHacks) to parse it. Sometimes it is homebrew and mess.
LogViewer (from developer of Universal Viewer) is app that can be adapted to any kind of log with customizable and flexible color-coding of lines.
What it does
LogViewer is a lot like one of usual tools meant to only view text, except addition of color filters for lines. Few default filters are defined (like Warning and Error) and altogether there can be up to twenty.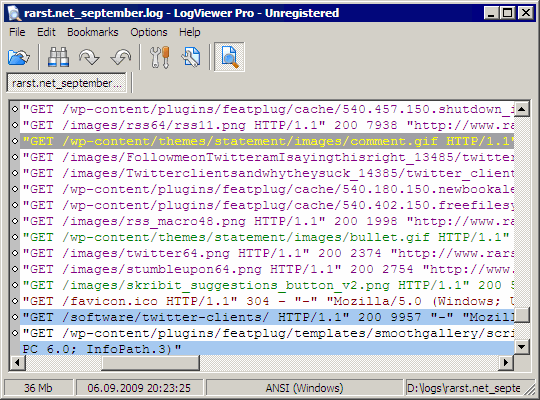 Lines are colored in order of filter priority, so only first rule to match will have an effect.
Strong features
fast and responsive core;
regexp support for filter rules;
auto-reload of log at specified interval;
option to rewrite matching lines.
Downsides
While snappy and pleasant to use overall I can't wrap my head around single and most important missing feature – hiding unwanted lines completely. They can be shortened to blank line, but few megabytes of blank lines to scroll through is awful lot.
It could also use export functions.
Developer had changed revenue model some time ago. App is freeware with severe limitation to home use on single PC. This is probably enough for something personal, but I don't see $180 price tag to use it for work as reasonable.
Overall
Fast, convenient and completely portable app. However it has small area where it can be applied with functions limited to manual viewing and heavy price tag for professional use.
Home http://www.uvviewsoft.com/logviewer/index.htm
Download http://www.uvviewsoft.com/logviewer/download.htm
Related Posts