Advertisement blockers are nasty topic. There are plenty of people that feel strongly towards either side of dispute and not shy to tell about it. Truthfully bliss or evil – ad blockers are here to stay (unless advertisers and publishers learn to not use atrocious advertisement techniques).
Opera is only major browser (as far as I remember) that boldly included content blocker as native feature. It wasn't actively promoted in the past, but 10.60 release has it listed among hand-picked top features.
What it does
Content blocker is native feature that excludes content, chosen by user, from web-pages opened in browser. Filtering is based on URLs with wildcard support and allows as precise or as imprecise matches as you need.
Content to block can be chosen right in browser window, or set up manually in settings.
Setup and tuning
Right-click somewhere on empty space on page and select Block Content… in context menu. This enables in-page selection mode. Graphical elements you click will be crossed out and added to block list.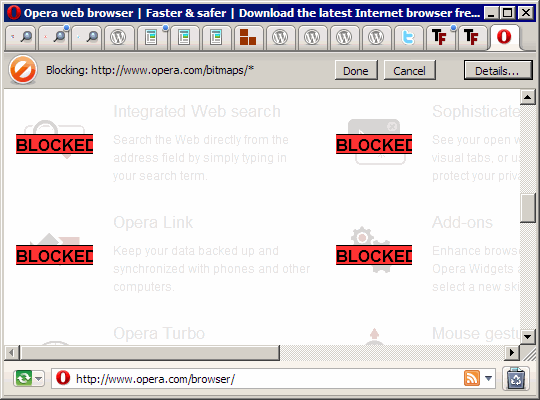 Holding Shift when clicking adds specific file to the list, instead of rough pattern.
List of things to block can also be edited manually in Preferences (Alt+P) > Advanced > Content > Blocked Content…
Graphical selection deals with images and flash, but manual edit and wildcard support allows to filter out any content. For example if you want to completely block JavaScript from some site you can create custom rule like:
Such rule will widely match any URL that includes that domain and ends up in JS extension.
Per-site control
Since it is easy to block too much with such tools Opera makes it easy to troubleshoot. Details… button in graphical selection mode shows list of rules, that were applied to current page.
Content blocker is on for all pages by default, but can be disabled for specific sites in Right click > Edit Site Preferences… > Content > Enable content blocking
Downsides
Graphical selection has a lot of trouble with complex constructs like dynamic popups. It often catches wrong elements in such cases.
Engine works nicely for scripts packed in files, but because of URL-based nature is completely useless against inline scripts. Some scripts have inline checks if main file was loaded properly and if you block it – endless nags as result.
Ad blockers commonly rely on shared and/or downloadable lists of stuff to block. Opera doesn't go that far and you are mostly stuck with your own rules. It can be rather annoying to re-create them if you use several computers.
Overall
For missing-my-revenue side Opera content blocker is nice compromise – it blocks specifically what user requests it to. If your advertisement tortured user to jump through those extra hoops – suck it up. If not – your ads will likely get seen.
From usefulness viewpoint content blocker is unbalanced. It does work nicely in many cases, but graphical setup is lacking and there were no noticeable progress to this feature in a long time. I wonder if coming up in top features means it will get some attention from developers.
Do you actively use ad blocking in one form or another? What is your experience and opinion?
Related Posts