This post is bit overdue, because I actually participated in closed beta test for this app in April. It had since reached release version and I got to it today (wonders of mailbox cleaning).
LinkExaminer is site crawler that checks links and provides various statistical data for content.
What it does
App starts with single initial URL and proceeds to crawl pages linked from it. Results refresh in real time and are presented in classic multi-column interface with color coding.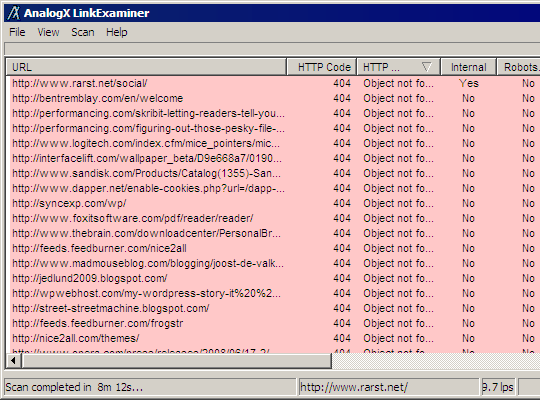 Crawl process is controlled by settings and can be customized for such parameters as:
depth;
exclusions;
abiding robots.txt and nofollow attribute;
skipping graphics;
and more.
Strong features
LinkExaminer scan is quite snappy, on this blog it averaged ~10 links per second. Interface is also very responsive, even when filled with thousand of links.
Interesting aspect is that aside from general link check app also offers some insight into SEO. It will check some basic factors like meta tags and title length, as well as give easy way to see inbound and outbound links for any page.
Reports
There are several export options.
plain text list of links;
CSV of all data currently shown (aware of filters and sort);
XML in sitemap format;
detailed HTML report.
HTML report is especially interesting and offers plenty of information, not actually presented in interface. It can highlight many things, including:
overly large images (found few pages where I clearly screwed up with choosing image compression) and slow pages;
summaries for HTTP codes and content types.
HTML report can also be completely customized with template and auto-generated after scan.
Overall
Flexible crawler that surpasses usual link checking and expands into SEO area. Quick scans and interface that makes it easy to interpret results.
Home&download http://analogx.com/contents/download/Network/lnkexam/Freeware.htm
Related Posts