Sometimes I am looking through my software folder for a fitting tool and it serves me a really old gems. Internet Maniac is small multipurpose networking app that had been long abandoned by developer but is still surprisingly good.
What it does
Internet Maniac combines most (if not all) classic networking utilities in single interface.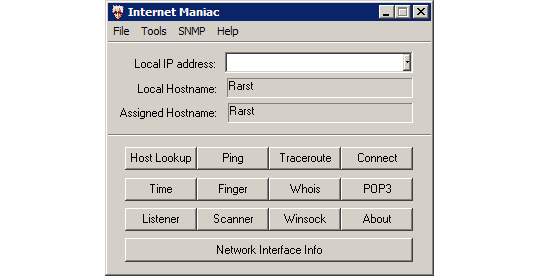 It can:
ping;
traceroute;
check mail;
turn IP into host name (and back);
check transfer speed between hosts (although my psexec/iperf combo would do that better and geekier);
give quick access to local IP and MAC addresses;
display active connections (ok, it's not the TCPView but still);
and more buttons I had no opportunity to press.
Hard to get
It is hard to provide download links for software that hadn't been updates since 2002. Native site went silent last year and software portals where just hot-linking to it (I had to press some broken link buttons today).
Wayback Machine came to rescue with cached versions of Internet Maniac home page and even download.
Overall
Yep, it's old. So are networking protocols. Despite age Internet Maniac would perfectly serve at least few more years. It's tiny utility that packs plenty of useful networking functions. Likes to write setting in registry but works without installation. And it has ugly interface that brings back memories.
Related Posts