Real speed of Internet connection may be hard to determine. It can be valued:
subjectively (how fast browsing is, how long to download that movie for educational purpose);
in hard numbers (amount of data downloaded or uploaded per second).
Speedtest is online service that provides bandwidth test with numerous servers across the globe and extensive statistics.
What it does
Speedtest loads fancy Adobe Flash page that allows you to choose server and test your connection. Geographically closest server will be offered by default and it is best to go with it (unless you want to see how jumping across the globe slows those bytes).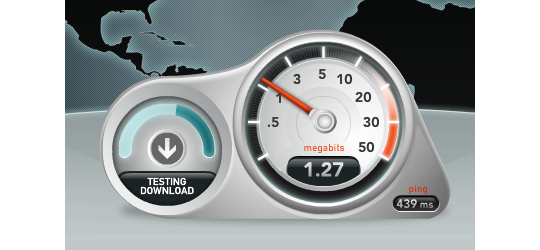 It measures download, upload and ping values. Results are saved (by IP address, no registration required) so if you have static IP you can see how your connection gets better or worse over time.
Comparing results
Service accumulates statistics on tests (and there are a lot of them performed all the time). Amount of data provided is increasing from time to time with interface updates. At moment you can look up:
how your connection compares to other clients of same provider;
other Internet users in your region;
what speeds are average for whole continents, countries and specific cities.
Sharing results
Speedtest compiles you results in badge-type image and provides a link to share it easily.
Simple and nice feature, equally useful for boasting and troubleshooting connection issues.
Overall
While giving good speeds estimate online tests are far from completely accurate. There are plenty of services online but I think Speedtest has important advantage of providing numerous servers spread geographically.
Related Posts