I had played with checking if site is alive in my AutoIt script and it is harder to implement than it seems. On other hand if there is no need for continuous monitoring – there are quite a few online tools that perform such checks.
IsMyBlogWorking is one of those and makes really thorough and detailed alive check.
What it does
It is single-page and very minimalistic site that prompts for URL to check (there is bookmarklet option as well). After that results are reported, split in two parts.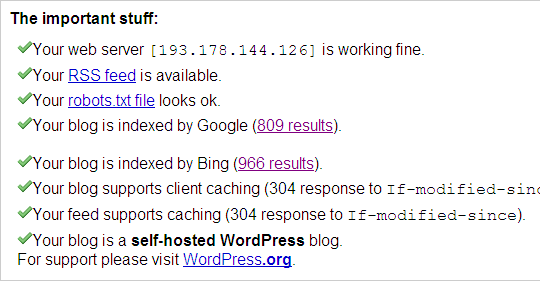 Important stuff covers if blog and its feed are currently responsive and properly indexed in Google and Bing.
Boring technical details offer some insight into how fast blog content is served and how compression (if any) performs. Not a specialized site timer, but still nice.
Strong features
just works;
convenient URL format, easy to bookmark and such;
nice balance of thorough details and readability;
quick link to validate subject site's HTML, feed and headers;
steadily developed, I see new features being added from time to time.
Overall
Well done service that gets job done and pleasure to use. It would be nice as portable software but I can live with it being web app. :)
Link http://www.ismyblogworking.com/
Related Posts