How to deal with software updates was one of the issues I knew I had to solve in the very start. It's pitiful when good titles get buried and forgotten as posts age. Digest update posts are too much of a routine for my taste. So I created software updates feed and it was good (as well as moderately successful).
Gradually desire to improve and new ideas started to pile up around it.
And Appnews.net was born – joint project of Rarst, Freeware Genius and gHacks (blogs you know and love, and if you don't – you should :) to bring you more software, more updates and more reviews.
What it does
Appnews is intersection between blogs that combines together software featured on all of them.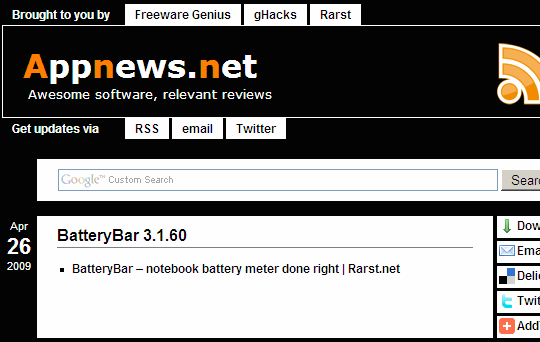 How it works
Creation of my (bored on vacation) mind, Appnews is beautiful mess of cool user and developer technologies.
Get updates conveniently
Want another way to get updates? Just say!
Overall
Appnews is first joint project for me and huge development for software updates feed that started as simple feature to provide more value for my readers.
I hope you will like it!
Tell me what you think in the comments and I would really appreciate if you spend a minute and share/mention Appnews on social sites of your choice.
Link http://appnews.net/
Related Posts