It is curios how I manage to mention app for months, but fail to actually make a post on it. Inkscape came up in discussion for choosing image editor post, list of several excellent tech tutorials and got almost dedicated post on specifics of how to change its interface language.
So here is proper post on this vector image editor.
What it does
Inkscape is image editor that deals with vector type of imagery. It manipulate not pixels (at least not one by one like raster image editors) but mathematically defined shapes.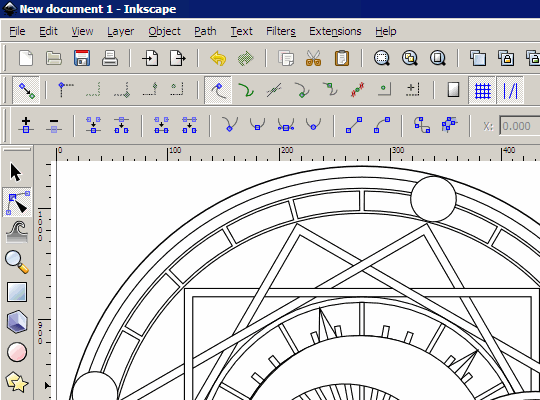 Editor can work with number of formats, but main one is own SVG implementation referred in program as Inkscape SVG.
Strong features
Inkscape is being actively developed for years already and offers very extensive and solid functionality. It comes with extensive amount of tools, as well as bundled filters and extensions.
There is bundled InkView executable for quick previews of files without loading editor.
Downsides
Because Inkscape doesn't really implement SVG standard completely there are interoperability hiccups with other software. It's nothing major but it is always a good idea to check result in another program if you need to be sure that it comes out right in it. There are a lot of images drawn in Inkscape used as Wikipedia illustrations and they have page with basic drawing and compatibility instructions.
In context of Internet SVG often comes up in context of animation, but Inkscape doesn't support that at current stage and is specifically static images editor.
As for my personal gripes I find inconvenient lack of precise measurement tools. When working with images I am used to manipulating with precise numbers and dimensions rather than imprecise mouse movements.
Overall
Solid, free, open source, cross platform with native portable option. Probably most feature rich free editor for vector graphics.
Download http://www.inkscape.org/download/
Related Posts