In spirit of world backup day I got to typing out this post on MailStore Home software for email backup.
Email backup is rarely considered, since modern stuff usually resides in Internet or work-provided service, as well as naturally duplicated when using email clients that keep archive.
However there are still plenty scenarios (human error, ahem) in which mail can be lost and it is worth backup as much as any other data you value.
What it does
Simply put application connects to email account and downloads all of email from it.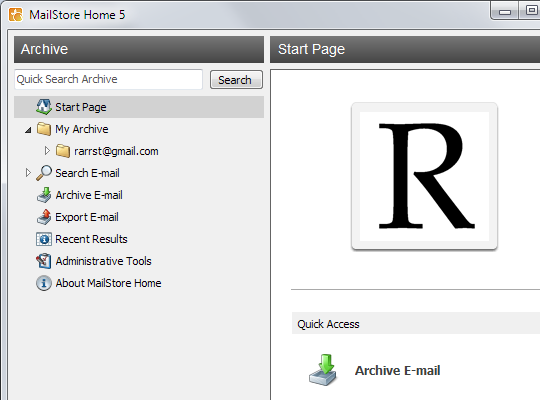 Choice of sources is most excellent from generic POP3/IMAP protocols to specific email services, popular email software and some file-based email archives.
Unlike most of backups, which result in archive file(s) to stash away, MailStore packs downloaded emails in database which can be navigated, searched and manipulated in interface. Feels much like any email client and you can even quickly reply to archived emails, using your regular email client of choice.
Strong features
App has export support on same level as import, which is both important for easy recovery and makes it good option for email migration.
From few runs I did performance and stability are very nice, although first backup of thousands email messages still takes fair amount of time. App's bandwidth usage seems to max out at 1-1.5 Mbit/s (at least for me and gmail) so it won't benefit much from higher connection speed.
Installer comes with native portable option and you can create portable copy (with all of the data) from inside app itself.
Downsides
While the app is very user-friendly and archive that can be navigated is impressive, I don't particularly like what it means for it as backup tool. Individual messages can be easily removed, which means there is no inherent integrity. Following backups simply add emails to existing profile, which blurs the concept of tracking changes from one backup to another and restoring to specific moment in time.
Since Home (free for non-commercial use) flavor of MailStore is simpler version of commercial Server version - developers seem to have intentionally cut out any means of automated operation. I googled up some mentions of command line parameters, but even that doesn't seem to work in current version.
Overall
MailStore home has excellent compatibility and ease of use, however complete lack of automation makes it crippled and unfit to be considered for any kind of scheduled backup routine.
Good choice for one-off migration or casual archive, but no more than that.
Home http://www.mailstore.com/en/mailstore-home.aspx
Related Posts