PicPick Tools, one of the most promising screenshot tools, had recently changed to more restrictive license – no more commercial usage. Technically anything for this blog is commercial usage (I have ads), so I took this as opportunity to look for alternatives.
And while I am looking I rolled back to one of staples – MWSnap, old but functional and convenient screenshot app.
What it does
Well, takes screenshots. Unfortunately app hadn't been updated in years, but even being that old it already has staple additional functions like region capture.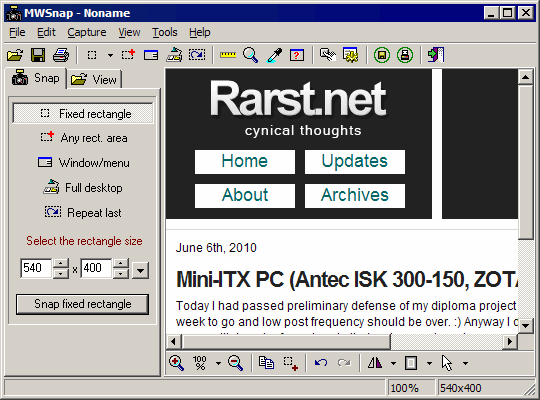 It also has not directly related, but commonly included tools – ruler, zoom, color picker and less common window info tool.
Strong features
Rectangle area captures (freeform and fixed size), which I use most, work nicely.
Captured image gets displayed in internal viewer and can be optionally copied to clipboard at the same time. Other output options are automatic saving to file and printing.
There are some tools to edit image, nothing interesting except tool to add cursor to image. Much more convenient then trying to capture cursor in image like most tools do.
Downsides
Too few tools in editor, but that it if you need those.
Zoom on freeform rectangle works fine enough, but on fixed it shows center of rectangle – quite useless with larger dimensions.
Overall
Time-proven tool with portable version available, that is free for commercial usage. Latter seems to be harder and harder to find in modern screenshot apps.
Home&download http://www.mirekw.com/winfreeware/mwsnap.html
Related Posts